Outdoor advertising has become a part of our everyday lives and, for the most part, the messages are simple, straightforward and brand driven. But what happens when two words appear on your morning commute, asking you to do something very simple that costs nothing?
This unconventional campaign from the Outdoor Media Association first appeared in 2019 and is live again this summer. The message simply says "Look Up". It's a bid to engage people in an action that may have a significant impact on the way we think and interact with the world around us.
People asked: "What are you selling?" — An idea, a pause,
a moment.
"Look Up" is good for your brain
The "Look Up" campaign aimed to inspire and promote the multitude of benefits that "Looking Up" brings; to ignite a moment of reflection and spark a conversation, and hopefully, to positively impact how we live together.
The expert on looking up and its effects on the brain and our lives is eminent neuroscientist
Dr Fiona Kerr who developed the report, The Art and Science of Looking Up. Dr Kerr has dedicated her life's work to the brain and how we can use it to its full potential.
The human brain, with more
neurons than stars in the galaxy, is the most complex organ in the universe. Our brain moves, grows, prunes and changes continually in response to external and internal stimuli. We sculpt our brain depending on what we reinforce and pay attention to. It is a work in progress.
Unfortunately, new technology has not always benefitted the brain. It is estimated our attention span has shortened by around one third over the past 15 years. In fact, new research is pointing to a change in our cognitive functions as a result of mobile device usage — we are scatterbrained, more prone to lapses in memory and more anxious. While we may think we are giving our brains a rest when we're scrolling on our devices, this sort of distraction kills abstraction, the state of mind required for deep thinking, creative concept building and new insights.
Neuroscience research shows that by looking up and out we can significantly change the way we think and interact with the world around us. Further, simply changing our posture to being upright, rather than slumped over a device, has been proven to improve mental health and build confidence.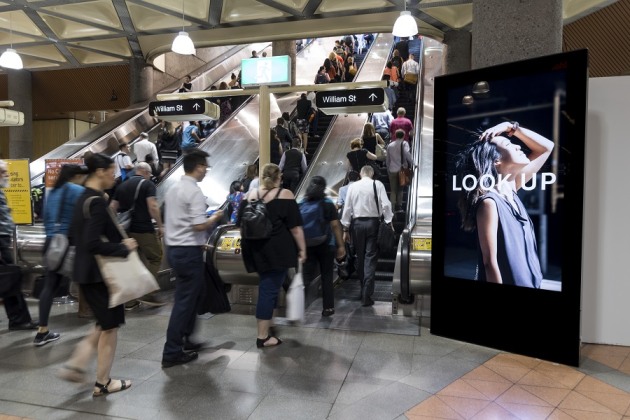 How do you promote an advertising channel
using your own channel?
What started with a bid to engage the public and increase awareness for Outdoor messages turned into a tangible demonstration of the role of advertising within the community; an in-situ example of the impact and influence of the Outdoor channel. The subtle and generous message appeals to everyone, resonates a truth about what is happening in our society, and is a call to action. One simple message: Look Up.
The campaign commenced with 10 versions of creative focused on context: versions for day, night, sunshine and rain, including one key image of a woman looking up. Importantly, there was no URL for the first two weeks, which did not quell website traffic and search rates.
There were an additional six versions of dynamic creative which included a moon rise, trees in the breeze and birds flying. Combining static signs with digital, and using place and time to reflect the versatility of the medium, the campaign demonstrated the poten-
tial of multi-platform placement.
Phase One launched in January 2019 for four weeks and was accompanied by a website, social media activity, an on-ground activation in Brisbane, Melbourne and Sydney, and a media tour with
Dr Kerr. Phase Two launched in July 2019 for eight weeks, and was accompanied by social media activity and a breakfast series for the advertising industry.
The results
Upon launch, there was an immediate increase in online search for the words "Look Up". The website lookup.org.au saw 1000 visits each day for the duration of the first, four-week campaign.
The campaign was seen by 92% of the Australian population living in and around the capital cities and took on a life of its own with
a social media reach of well over one million people, primarily on Instagram. There were more than 54,000 Likes and Comments on #lookup posts, and the increase in #lookup posts during the campaign was 250% more than previously noted in Australia. The combination of paid and organic search saw an increase of 10 times the average activity for the words "Look Up".
Phase Two was displayed on approximately 15% of the inventory compared to Phase One, but for a longer duration. The expectation was that there would be a decrease in engagement, however the message and proposition prevailed: more people remembered and talked about the campaign and there was an uplift in the number of people saying they were inspired to "Look Up" more because of the campaign.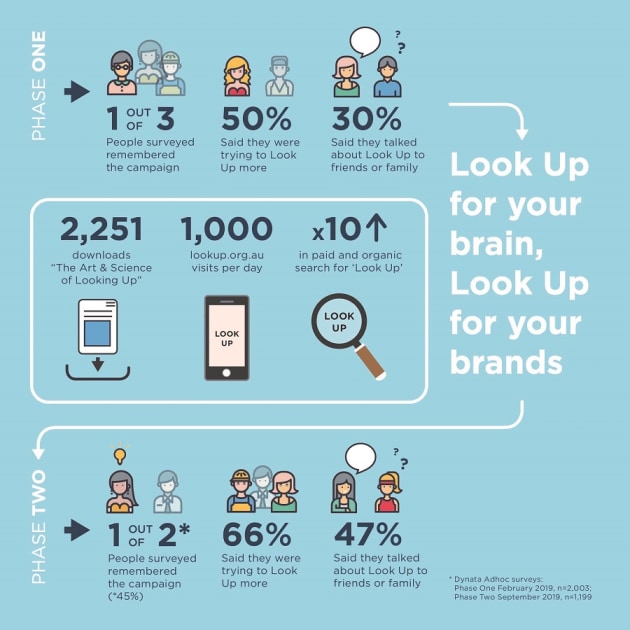 What does this tell us?
While the Out of Home industry grows and innovates, relevance is never a question. However, there is a misconception that signs can't tap into emotion or storytelling. The Look Up campaign results are an example of how people and signs have moved past this perception.
"Look Up" sparked curiosity with its simplicity, it tapped into the zeitgeist with its messaging, and started a movement that has changed behaviour – two simple words "Look Up" with relevant images, did that.
The campaign demonstrates the power of an image to tell a story, the effectiveness of simplicity to convey a message, and, the value of tapping into a need, a moment in time, and speaking directly to the intelligence of the audience.
If the Out of Home industry can create a movement, imagine what it can do for your brand.
Have something to say on this? Share your views in the comments section below. Or if you have a news story or tip-off, drop us a line at adnews@yaffa.com.au
Sign up to the AdNews newsletter, like us on Facebook or follow us on Twitter for breaking stories and campaigns throughout the day.