Consumers are overwhelmed with mass marketing messages and if brands don't wake up to personalisation and the 'two-way conversation' that people want, they must prepare for unsubscribe backlash.
Those are the views of CEO of Salesforce Marketing Cloud and chief analytics officer, Robert Stutz, who said there's still a big chunk of brands that are coasting on past glory days of mass marketing message blasts.
Speaking to AdNews, Stutz admitted acquisition is really tough in this day and age and then you shift to the challenge of retaining them.
"I look at my own and there's days when my personal inbox is filled with just garbage at the end of the day. It's not that I don't like those companies, but I've been doing business with some of them for 20 years and they still don't know what I like and dislike," he said.
While Salesforce has several CRM, AI and data offerings, having agreed to acquire cloud-based marketing intelligence company Datorama for AU$1.1 billion in July, Stutz said that doesn't translate to everyone utilising all of its products.
"We have a lot of customers who have been doing that [mass blast] for a lot of years. They've been successful, but what they're finding is unsubscribe rates start going up," he said.
"Consumers now want to have a relationship with the business based on it knowing, not 'ok, this week we've got 15 campaigns and we're going to blast everybody on the planet', as that doesn't work anymore because consumers are getting to a point where they're overwhelmed."
Part of moving the conversation on, Stutz said, is about using machine learning to be able to much more effectively use personalisation in real-time and understanding the online journey across all devices.
A two-way conversation
Stutz said consumers want to have a conversation, even if that conversation is with a bot.
Users around the world are increasingly logging in to messaging apps to not only chat with friends but also to connect with brands, engage with content and browse e-commerce platforms.
More than 100,000 chatbots already exist on Facebook Messenger as marketers attempt to better understand how to harness their potential.
"It can all just data overload. How many emails can you look at a day? How many SMS can you really answer or even think about effectively? It's really about having those two-way conversations," he said. 
"If you get an ad or a promotion, wouldn't it be great if you can just click on something and say, 'look, I appreciate you as a company, but I'm not interested and here's the things I'm really interested in and don't send me anything outside of this."
Many Australian brands have also created their own bots, from Estée Lauder's beauty bot that offered free samples, to UBank's bot providing home loan assistance.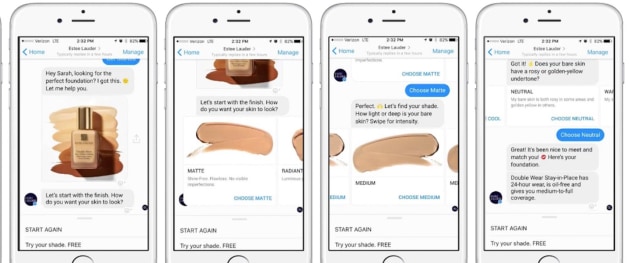 Estée Lauder is just one of the brand's experimenting with chatbots 
Push versus pull
US-based Stutz, who was former corporate VP dynamics of CRM at Microsoft, said it's really about getting to know consumers and understanding what they really want.
His personal pet peeve is that he's targeted with shoe ads by companies that typically don't make them in his size.
"I don't want to get ads that I can't buy. Only send me stuff that I can actually go and buy, but when you send me an ad that says, 'go online and buy this," but then you find it's only up to size 13 when I'm a size 15.5, it's useless."
"We got to this because everything has been a push. The whole idea of marketing is push marketing - just push it down their throats and see what happens at the end of the day."
Stutz argued that it must be both "a push and pull", whereby the marketer pulls the data and the interest from a consumer before pushing the relevant messaging.
"Some marketers think that just putting the right name on it is personalisation. It's a start but it's really not personalisation," Stutz explained.
"The stuff that we're working on is really hyper-personalisation where we have a lot of customers personalising content based on that person. Yes, it's a lot more complex but ultimately, it's also a money saver for them because they're not blasting people over and over again and the click through rates, the open rates, the buy rates, often those messages become much higher."
Stutz said to some extent the mass marketing blasts will always live on as "some companies just don't care".
"While a lot of the companies that I've seen over the last two years have really moved away from it, there are ones that it's worked for over the last 30 years and they think it will continue to work," he said.
Have something to say on this? Share your views in the comments section below. Or if you have a news story or tip-off, drop us a line at adnews@yaffa.com.au
Sign up to the AdNews newsletter, like us on Facebook or follow us on Twitter for breaking stories and campaigns throughout the day.