Twitter has agreed to open up its metrics to an MRC audit, following similar moves by Facebook and Google.
The audit will assess whether Twitter's metrics are accurate and the first step towards MRC accreditation.
Twitter is in an MRC pre-assessment phase, in which independent CPA-accredited auditors perform an initial review of Twitter's compliance with relevant industry measurement standards.
This work, which is due to finish by the end of the year, will help establish the scope of a full audit.
The MRC's audit includes gross and net tweet impression counts (including earned impressions), as well as Twitter's measurements of viewable video impressions, and tweet sessions and video sessions as well as related duration metrics.
It is anticipated the full audit will conclude in the first half of 2018.
Digital media platforms have come under increasing pressure in the recent years to improve the transparency of their marketing metrics.
Calls for independent scrutiny hit a crescendo in late 2017 after Facebook revealed it had miscalculated several metrics on video viewing metrics, such as the average duration of a video view.
More recently, further questions were raised about whether Facebook's claimed reach figures are accurate after AdNews revealed the platform says it can reach 1.7 million more young adults than officially exist in Australia, with similar discrepancies in other countries.
Such metrics don't always have a direct consequence on whether marketers are getting the impressions they pay for, but can influence their propensity to invest in a platform in the first place.
Verification is not measurement
The reason why the MRC needs to audit these figures is because social media platforms do not allow third-party measurement partners such as Moat, Integral Ad Science and CommScore, to measure marketing metrics at source.
These platforms provide their metrics data to measurement firms to verify for accuracy.
Other media websites allow measurement firms to actually measure metrics data at source by implanting code into websites that scrape data called software development kits (SDK).
This is clearly illustrated when you run a tool that picks up the different SDK tags on websites, such as Ghostery.
On AdNews, Ghostery found 16 tags, which grew to 45 on The Australian and 64 on the Australian Financial Review.
Running the same test on Twitter found 4 tags, on Facebook it was 3 and on YouTube it was 1, and these tags are inserted by the platforms themselves.
Ghostery test AdNews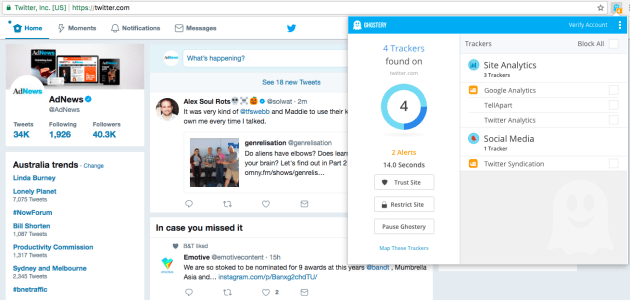 Ghostery test on Twitter
Media buyers have called on digital media platforms to step up to full measurement, but this been resisted over user privacy concerns, despite user data being offered up to help advertisers target individuals.
Another reason why platforms would balk at SDK bloat is that it can slow down the time it takes to load a webpage and advertising impressions.
Where are they at?
Google is well ahead of Facebook and Twitter when it comes to accreditation. It has been accredited by the MRC for  the following:
DoubleClick for Publishers display, video and rich media ad impression serving, including mobile web
Google Active View viewable display ad impressions reported through DoubleClick for Publishers
Display ad impressions and Google Active View viewable video ad impressions, including mobile web and mobile in application reported through Double Click Manager.
Google AdWords (Clicks)
Google is under review for YouTube third party data feed for video viewability reporting.
Facebook is in phase two of a three-part audit for display and video served impressions (desktop, mobile web and in-app).
And now Twitter has just begun its journey.
Ghostery tests on major platforms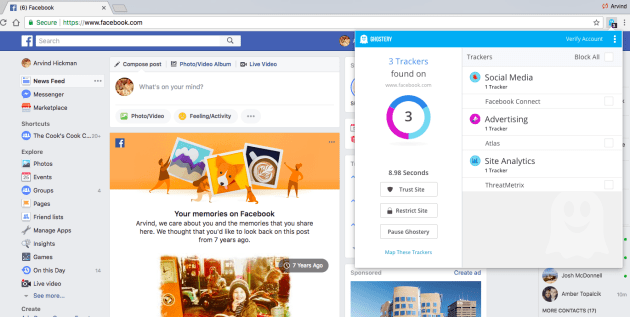 Facebook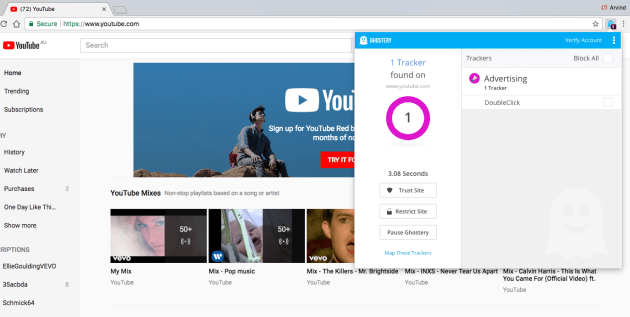 YouTube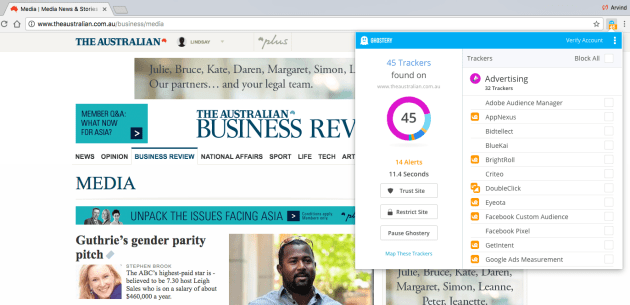 The Australian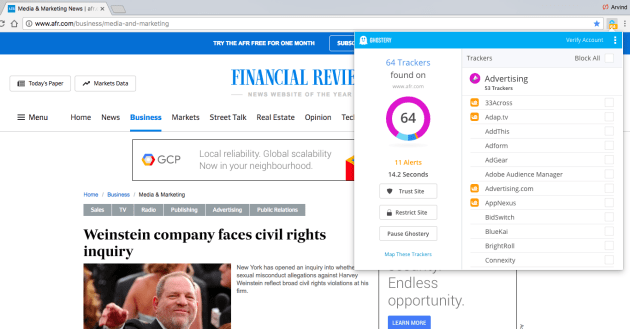 The Australian Financial Review
Have something to say on this? Share your views in the comments section below. Or if you have a news story or tip-off, drop us a line at adnews@yaffa.com.au
Sign up to the AdNews newsletter, like us on Facebook or follow us on Twitter for breaking stories and campaigns throughout the day.