This first appeared in the AdNews print magazine. You can read it all below but if you want it as soon as it goes to press, you better subscribe here.
The Walt Disney Company may not have a theme park or stores in Australia but that doesn't stop the media and entertainment giant expanding and diversifying here.
Pippa Chambers talks to Catherine Powell (right), Disney ANZ managing director, about the 'magic' and Maker Studios.
 It's been a busy year for Disney, which saw it launch its first brand campaign in more than a decade. And 2016 is set to be another bustling year across its Disney, Pixar, Marvel and Lucas franchises.
Catherine Powell is in charge of it all. She's been with Disney more than a decade and took on the top job in Australia almost 18 months ago. She was previously GM of Disney media distribution across Europe, the Middle East and Africa, and before that, spent 10 years at the BBC.
 The Disney brand, which sits at 18 on the Millward Brown BrandZ Most Valuable Global Brands list and is valued at $43 million, increased its brand value by 24% this year, partly on the back of the success of Frozen. It's prepping Christmas activity, looking forward to the Toy Story 20th anniversary and ramping up activity around the next instalment of the Star Wars franchise in December, which is forecast to be the biggest box office success of all time.
 For a global brand with such strong roots in the US, one of the challenges Disney has in Australia is giving it a local perspective. The upcoming Celebrate A Life More Magical campaign is at the heart of its marketing messages, which is basically how it aims to inspire Australian families to make Disney part of their lives.
 "One of the things I was struck by when I started here was how many Australians see Disney through the US lens and that goes to the point that when I told people I work for Disney, they'd say 'well there's no store and no park'. But there's so much more that we do to bring Disney to your lives here," Powell says.
"We have a pipeline of fantastic digital products in particular, some apps and games coming down from the US, but we create our own local digital experiences. Our digital experiences are home-grown, whether it be the #AntMan campaign or the fairies at the Botanic Gardens. In other words, it's the Australian team here coming up with those ideas."
Earlier this year, Disney reviewed its media account, confirming in April that the $26 million business would stay on with Carat. Shortly after, Gavin Ashcroft, Carat's former chief strategy officer ANZ, was appointed Disney Australia CMO and has been tasked with giving global Disney properties an Australian feel.
"Our marketing strategy is continually evolving. Gavin has come on board to focus on integrated marketing and franchise planning, media strategy, partnerships and our social media strategy," Powell explains.
He will also be responsible for managing and amplifying relationships with current and new brands – from Foxtel and Optus to Holden, Myer and beyond.
"Disney is in a very, very strong position at the moment. We have such incredible content across our brands so that dialogue for the partnerships is very easy," Powell says.
Disney has partnered with Holden around its Star Wars push, and the film will be heavily featured at retail with Star Wars-themed in-store executions across major retailers in Australia including Target and Big W, as well as in the Myer Giftoriums, launching in November. There isn't much that Disney doesn't have a hand in entertainment-wise from its movie franchises to live sport through ESPN, and its recently acquired Maker Studios – which specialise in reaching millennial audiences across multiple programming genres.
The YouTube multi-channel network Disney bought for $500 million in 2014 is set to be a big focus in Australia in 2016.
The global network includes more than 55,000 independent creators from more than 100 countries, attracting over 12 billion views per month. Its growing scale is driven by its ever-expanding content and number of creators, technology platform, direct-to-consumer distribution and data analytics. It works by aggregating set genres of YouTube videos and can also provide resources like studio space, as well as helping creators with cross-promotion and deals with brands.
"The Maker network has a vast network of digital ad inventory, but we're also focused on the talent and how we can work with them. Creating the content is two-fold. We look for marketing or promotional content that is entertaining in itself, and we've also commissioned Maker to create content for our network Disney XD," Powell (below) says.
"Next year we are tasked with amplifying the Australian voice for Maker and that is a big focus of mine. and One of the ways that this will articulate itself is working closely with brands."
Bringing the 'magic and inspiration' of Disney and engaging in brand activations sounds a marketer's dream gig, but measuring the return on investment is "very difficult" she says.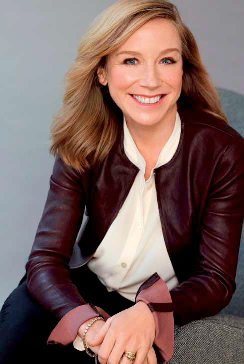 For a brand that pedals magic, ROI is almost the antitheses.
"You need to benchmark for success without question and it is difficult to have measurable benchmarks for success in this space," she says, but Powell is wary of specific financial metrics across everything because it would take the focus off the 'magic'.
"There's a lot of what Disney does which is about the affinity, the emotions that you feel. It's about our characters and our stories and giving our local fans here, and our consumers, access so it's not all measurable," Powell explains.
"One of the reasons that we are integrated now and that I'm managing all the business is because I can encourage the teams and incentivise the teams to care about the impact of the brand and the success of the business overall. You want all boats to rise and to all work together, understanding how we want to engage, what we want this engagement to look like, how we can measure it, but it's not always going to have financial metrics."
It remains to be seen how quickly Disney's global roots can wrap around its local target base, but with its mega movie line-up around the corner, a new CMO steering, plus an increasing video play, it certainly sounds like a magical mixture for success in 2016.
Have something to say on this? Share your views in the comments section below. Or if you have a news story or tip-off, drop us a line at adnews@yaffa.com.au
Sign up to the AdNews newsletter, like us on Facebook or follow us on Twitter for breaking stories and campaigns throughout the day.