Churn is the enemy of intelligent thinking. Things move fast, so fast that sometimes the impact gets missed or glossed over. More time, means more thought.
So from September we're taking AdNews monthly to reflect the changing demands of our readers. The 22 July issue will be our last fortnightly mag, and we won't publish in August. Our first monthly edition will come out in the first week of September.
It's probably something we should have done earlier. No one knows more than our readers that the way people consume content is changing. Print's place within that has shifted so it's not a move which requires much explanation. We know there's still a place for a premium print product and it will remain a strong part of our offering for years to come, but changing the frequency allows more time to let things breathe and for us to be more considered in our editorial.
We're not reinventing the wheel, don't expect to see a departure. But you should expect to see more of what AdNews does well – constructive, well-informed and balanced reporting of the issues this industry faces and the great work that's being done.
We'll keep doing what AdNews has done since 1928 but the new AdNews will have a fresh clean look and new features. The monthly print title will complement our website, daily newsletter, weekend wrap up as well as our social and events presence. You can subscribe to our newsletter via the homepage, subscribe to our print magazine here or sign up to a digital only version that you can access on Android, Apple and desktop via Zinio, or get it on iTunes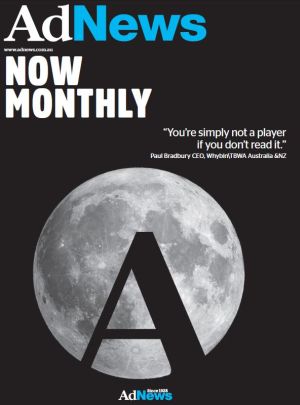 We're expanding our events portfolio, relaunching our Agency Rankings as the Top Australian Agencies, bringing back the Power List of Australian media and marketing power players and introducing a number of new initiatives. We're also celebrating 30 years of our Agency of the Year awards in 2017 so expect something big to mark that occasion.
With so much noise in the market, AdNews is a source that you can trust to challenge and champion the industry in equal measure. That won't change. We're not out to find a controversial headline, but we won't shy away from one.
We'll continue to cover creativity, media, adtech and marketing from the agency and client perspective and talk to the people and companies that are pushing the industry forward. The print magazine will investigate issues looking at the why, not just the what, shine light on great work and offer perspectives and voices from Australia and overseas.
For our advertisers it means an opportunity to align with a premium format that senior decision-makers and influencers have time to read and an appetite to spend time with.
Our mission is to build up the industry and be a constructive voice that helps everyone in media, marketing and creative stay informed and inspired. We're glad you're along for the ride. Get in touch with any feedback or comments. 
To discuss commercial opportunities across all our platforms and to advertise with us in our new format, you can contact AdNews publisher James Yaffa, advertising manager Paul Carroll or sponsorship mangager Emma Logan. Their details are below.
But don't take our word for it, here's what our readers say:
Leigh Terry, CEO, Omnicom Group Australia and New Zealand
"AdNews has always been the reliable voice in the market to shed light on the big issues, and what's underneath them. It's a must read for me and my teams to stay informed and a monthly will give more time to reflect on what's really important, and offer more depth beyond the cut and thrust of daily news."
Thérèse Kallie, Director of communications and marketing excellence, Nestle Oceania
'The business world has changed, we all have less time because there is so much going on. I'm looking for publications and sources of information that focus on what really matters and can have more impact. We need more quality and less distraction. I am confident AdNews monthly will offer that. Bravo!'
Mark Green, CEO, The Monkeys
"We have a great industry and we do amazing work for businesses across Australia every day. Our industry deserves in-depth analysis and respectful coverage and AdNews' move to a monthly will help ensure they can go deeper, and better report on the big challenges the industry faces. When the talented folk at AdNews can find a bit more time for themselves, the industry as a whole will benefit. Whilst the media landscape may change forever, one thing that will stand the test of time will be quality reporting. I look forward to the new AdNews in whatever format it comes in."
Paul Bradbury CEO, Whybin\TBWA Australia & NZ
"I can honestly claim to have read every printed edition of AdNews for the last 23 years. It is, and has always been, a trusted source of commentary and opinion on where our industry is heading. You're simply not a player if you don't read it."
Matt James, CEO, Publicis Media
"AdNews is and always has been the 'go-to' industry magazine and news service for me. The reporting is balanced, provocative and ultimately a positive articulation of our industry and for this it is valued by the Australian marketing, advertising and media fraternity. Moving from a fortnightly to a monthly print edition makes absolute sense. I have no doubt the change in frequency will provide the AdNews team with a more conducive platform to create more in-depth reports and initiatives on our industry trends and issues, whist continuing to evolve the digital news service to the industry."     
Paul Nagy, Executive creative director, Clemenger BBDO Sydney
"Quality over quantity can only be a good thing. People are spending so much time reacting and keeping up, that they are not thinking. And that's dangerous. We're swamped with loads of information, but it's relatively shallow and doesn't offer a real point of view. I'm genuinely excited at the thought of AdNews attempting to fill that void."
Louise Eyres, Group GM of marketing, ANZ Bank
"AdNews is a respected source of analysis and fact-based news representing Australia's marketing and agency community. Moving to a monthly print publication, complementing the daily digital updates, will allow greater depth to be explored across key topics to inform the marketing agenda and debate in Australia and further position marketing as the growth driver for business."
John Broome, Vice president and CMO, Unilever
"I've always seen AdNews as a trusted and respected source of news, insights and analysis on the marketing industry in Australia. Whether celebrating great marketing work, analysing the latest consumer trends or stimulating debate on the key issues that affect our industry, AdNews offers a variety of informative and relevant content for the marketers of today and tomorrow. A copy is always being passed around my marketing team and that's validation in itself."
Jaimes Leggett, CEO M&C Saatchi
"The world of publishing has changed. We all get that. Some might argue that snackable content is king, that long form is dead. I'd argue the opposite. There is no substitute for a quality print that takes the time to investigate and report on the big issues. AdNews is integral to the industry and I applaud them for investing in it. As a monthly it will continue to offer what the digital players seldom do – an intelligent, useful resource to help marketers and agencies tackle the challenges they face every day. I rate it."
Simon Ryan, CEO, Dentsu Aegis Network
"AdNews has been at the cutting edge of media and marketing reporting for an incredible 88 years, making my 22 years in the industry seem short in comparison! I have often looked to AdNews for the latest news and views in our ever-evolving industry. AdNews consistently provides breaking news and in-depth insight that is relevant, thoughtful and well-researched. I'm glad to see AdNews announce a move to monthly to provide more in-depth coverage on the issues that matter to Australia's media and marketing industry. We also value our relationship with AdNews 'off the page' as they continue to drive the agenda with their industry events and Agency of the Year Awards."
Advertising:
James Yaffa, Publisher
jamesyaffa@yaffa.com.au
T: 02 9213 8293
M: 0411 592 383 
Paul Carroll, National Sales Manager
paulcarroll@yaffa.com.au
P: 02 9213 8288
M: 0408 251 359
Emma Logan, Sponsorship Manager
emmalogan@yaffa.com.au
Ph: 02 9213 8292
To discuss the change with our editorial team, you can contact Editor Rosie Baker or Online Editor Pippa Chambers.
Rosie Baker, Editor
rosiebaker@yaffa.com.au
P: 02 9213 8285
M: 0411 592 375
Pippa Chambers, Online Editor
pippachambers@yaffa.com.au
P: 02 9213 8284
M: 0411 592 390
Have something to say on this? Share your views in the comments section below. Or if you have a news story or tip-off, drop me a line at rosiebaker@yaffa.com.au
Sign up to the AdNews newsletter, like us on Facebook or follow us on Twitter for breaking stories and campaigns throughout the day. Need a job? Visit adnewsjobs.com.au.