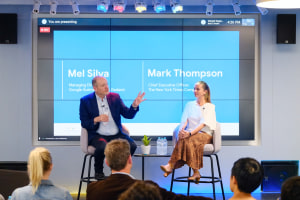 Data privacy remains the thorn in the side of digital advertising, with The New York Times (NYT) CEO Mark Thompson labeling it as somewhere between "deeply troubling and scandalous."
Speaking on a panel with Google Australia managing director Mel Silva in Sydney about the NYT's transition to digital, Thompson echoed the belief that regulation around the issue of data privacy is inevitable, saying now's the time for nations to decide how they want to proceed.
"Digital advertising is a very problematic activity, and the use and abuse of people's data in the advertising ecosystem is somewhere between deeply troubling and scandalous,' Thompson says.
"There's a lot of bad actors in this space."
Thompson was responding to a question on the Deceptive Experience to Online Users Reduction (DETOUR) Act in the US, which aims to curb platforms with more than 100 million monthly active users from gaining user data through deceptive means, known as "dark patterns".
He warned that the "massive" job of reform won't be a smooth one, with many trial and errors occurring along the way.
"We have to begin to think about what's the minimum level of data that's safe for people in order to give them a good service, rather than the assumption; sign here, here and here and take everything."
The NYT itself is experimenting by taking down some of its so called "tracking pixels" and seeing whether "the sky falls in". Thompson also expressed his dislike for open market programmatic, working to eliminate it entirely for the publisher.
As for the digital platforms which face new laws, including in Australia following the release of the ACCC report into Facebook and Google in June, Thompson said it will feel like a "trip to 35 dentists at the same time".
Confidence in a post-ad business model
The NYT has shaken off the fear that originally came with the digital revolution for publishers, recently passing three million subscribers, and eyeing 10 million by 2025.
"As long as the content is good enough, distinctive enough, and you can't get it anywhere else and we're reasonably smart about how we package it up and market it, there's no reason we can't have a very successful, scaled news business," Thompson says.
Still, Thompson expressed issues around the tech giants, which for years have taken ad revenue from publishers such as the NYT.
"Google is currently the platforms where we have the least anxiety, but our anxiety is high everywhere," Thompson says.
"We remain hopeful that Google will continue to be a place by which consumers come to find content and then leave. "The thing that makes us most nervous is where we see Google attempting to capture people and keep them in its environment."
Commenting on the NYT's partnership with Google, Thompson said it's changes to product that are the most beneficial types of partnerships.
"The thing that works least well, and one of the two platforms has been guilty of, is a kind of 'partnership relationship', which is very nice but all that matters really is whether change to products occurs," Thompson says.
He noted Google making changes to its algorithm to comply with NYT's five free articles a month policy.
"Our demands don't damage the quality experience of Google Search for users," Thompson says.
"We never ask for charity."
Have something to say on this? Share your views in the comments section below. Or if you have a news story or tip-off, drop us a line at adnews@yaffa.com.au
Sign up to the AdNews newsletter, like us on Facebook or follow us on Twitter for breaking stories and campaigns throughout the day.