Netflix's "unsustainable" business model is approaching an "inflection point", according to the global head of TV strategy at Videology.
He also warned that the political influence of the major tech titans over the global economy is a huge hurdle for the local TV industry to overcome. 
Speaking at last week's Future of TV conference, Rhys Mclachlan believes governments and businesses could easily be swayed by the vast sums of money tech giants throw at them as well "absurd" market valuations provides an unfair advantage to "loss-making" businesses like Netflix and Amazon to invest in content production.
"Netflix has to continue to put significant sums of revenue into the leaky bucket which is its programming commissioning strategy," Mclachlan says.
"They spend a disproportionate amount of their revenue into creating new content. If they do not create new content then they die. Their reason for you to pay your subscription to Netflix is compromised if they aren't refreshing their slate of programming.
"That exponential commitment is increasingly compounding their ability to be effective. There is an inflection point looming for businesses like Netflix."

Netflix's content costs are eroding its profit margin.
Tech lobbying overtakes big oil, finance
Mclachlan says that global tech giants have wielded a disproportionate amount of influence over the global economy and this will be hard to curtail in Australia despite the protections already in place for the TV industry, such as anti-siphoning laws.
Part of the reason is that they have unprecedented access to capital and political influence that blow local content producers out of the park and is changing the way traditional TV companies commission, program and acquire content.
"Last year, the collective lobbying investment by the big three digital businesses ran to $45 million. "This is the first time that Silicon Valley technology businesses spent more on lobbying in Washington than tobacco or big oil or the finance institutions," he says.
"They have agendas. They look to operate globally and have the capacity to implement their agendas in your media market and your commercial and finance markets."
"Not only do they have incredibly deep pockets they have absurd market capitalisation value," Mclachlan adds.
"Amazon currently has market capitalisation value of a $250 billion and it makes a loss. Netflix's valuation is $120 billion to $150 billion. Compare that to 20th Century Fox – a major legacy business that has invest heavily in TV over a long period of time – which has a market cap of $68 billion.
He says there is a fundamental question around whether local regulatory protections in Australia can be perpetuated in a global economy. An example of this is that anti-siphoning laws that prevent Foxtel from acquiring the rights to certain local sports do not apply to digital platforms like Amazon, Facebook and Twitter.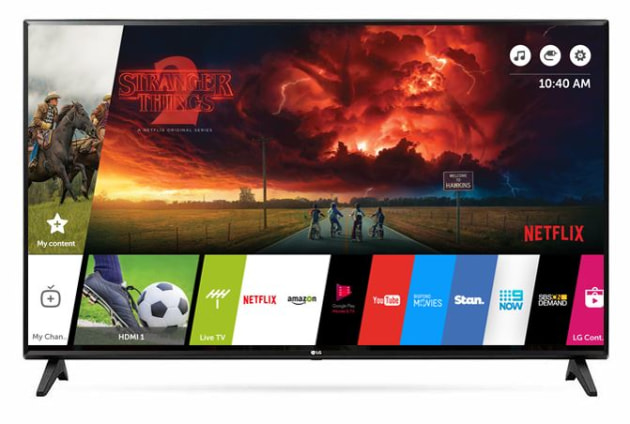 The main page of connected TVs are "up for grabs".
TV's prime opportunity
The rapidly shift towards IP-delivered video content on smart TVs also levels the playing field, providing digital native companies with the same "main page access" as traditional players.
Although these are significant challenges for TV, Mclachlan believes that it presents a prime opportunity for the television industry to strike back.
Firstly, he believes the Netflix business model is unsustainable because it requires an exponential amount of investment to continue and the local TV economy needs to double down to ride it out.
Also there are signs that viewers value established media companies that produce trustworthy journalism.
"The global trust barometer from Edelman fundamentally says there is a huge amount of public cynicism about whether digital entrants are trustworthy," he says.
"There is a consumer flight to trusted journalism and legacy businesses that have a trusted relationship with the viewer. They have never seen such a delta in the distrust in social media and faith in established news and media brands.
Mclachlan also points out that noise around the decline of television is grossly overstated when compared to the fact that TV still consumes more than 80% of all video viewing in Australia (see above).
"Commentators and agitators in the market tend to focus on the 20% but the reality is any other media channel would kill to have that sort of penetration. An 80% share of market is without comparison or parallel," he says.
"We have to acknowledged that in the reallocation of marketing budgets and investment there has been a significant and material consolidation into two large global players that operate largely without respect to local market economics.
"The good news the impact of this duopoly is no longer going to have such a huge impact on television revenue. The rate of decline has started to arrest and the growth of those digital businesses is largely coming from outside of the television economy. The erosion of the commercial base has been arrested.
He continues: "The conclusion of a jaw-dropping Accenture report is that we are fundamentally undervaluing the power of TV in driving ROI into clients and simultaneously over-investing in digital to drive outcomes for clients. Without TV to put impressions or eyeballs or brand awareness at the top of the funnel the digital channels cannot deliver."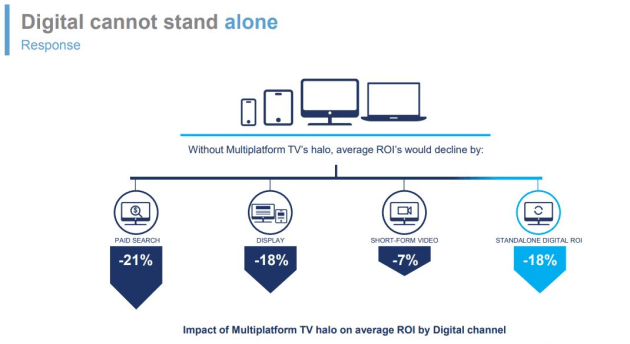 Have something to say on this? Share your views in the comments section below. Or if you have a news story or tip-off, drop us a line at adnews@yaffa.com.au
Sign up to the AdNews newsletter, like us on Facebook or follow us on Twitter for breaking stories and campaigns throughout the day.