In this digitally disrupted programmatically data driven world one can lose sight of those core, unchanging truths in the field of human persuasion. The consumer is smarter than ever AND emotional as always, still unpredictable, now literally bombarded daily with thousands of brand messages. What catches the eye in today's megapixel, highspeed universe?
To this day there remains a central tenet of success - the idea takes you above the noise while the creative clears the clutter.
Any good creative will admit, ideas can come at any moment. Building creative applications around an idea remains an art more than a science. The idea of the single permanent workstation, open office hours, gives way to mobile and home studio solutions, to have the right technology needed wherever the idea arrives!
In 1984, creative studios the world over changed forever with the launch of Macintosh….
The promise was huge and led to near global domination (for quite a few years). To this day, Apple still remains a good resource in the crafting of most commercial communication. In fact Apple and its programs have formed a generic 'look and feel', an aesthetic that can be picked easily when knowing eyes are looking.
Design demands are evolving…fast!
Is there a new frontier in digital aesthetics? One that looks forward and breaks old codes? New dimensions and styles that integrate better with a gameified world? Younger consumers. The digitally savvy! Where everyone's a TV producer/director. Where curation, compilation and message packaging explore new formats and forms.
The last few years have seen an explosion in consumer experience online. The gaming industry, AI, digital out of home, total TV, social and mobile formats, just a few faces of this huge forward jump.
This immediate future confronts all our senses, 'the idea' and 'the creative' need all the help they can in the high voltage, gigabyted consumersphere of today and tomorrow.
Intel has recognised the new benchmarks and challenges of design. Creative output, multiformat accessibility, economy of space without sacrificing performance.
More progressive agency creatives are looking farther and wider than any single hardware solution today.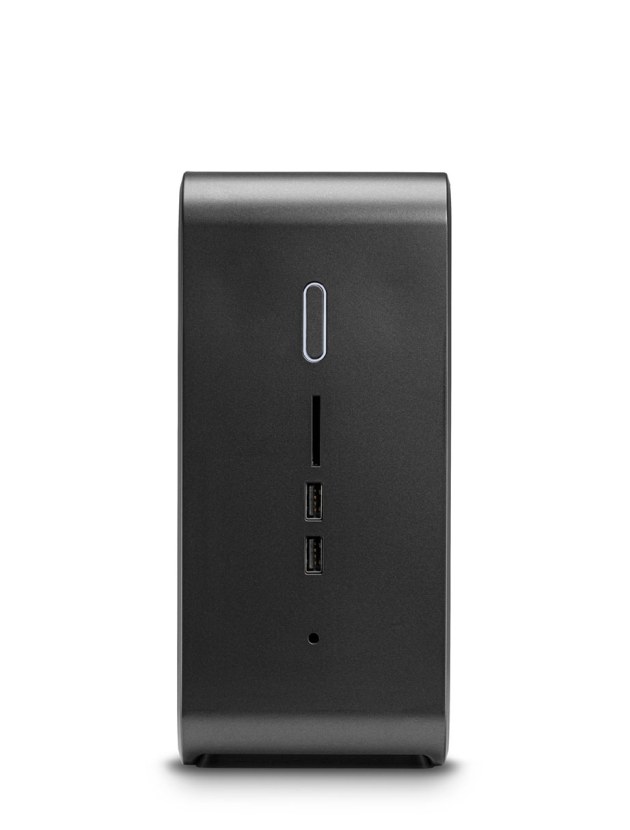 Enter INTEL NUC!
Completely redefining the mini PC class…A content creator's dream come true, NUC has the power of 9th generation processors, highest speed memory, 'Impressive Form Factor'. Maximum creativity and minimum bulk on the market today. The power and the portability to eclipse your competition and wow the client, anywhere!
Go beyond desktop performance in NUC's compact form. Like an Intel Xeon NUC with eight cores. Files open three times faster and daily tasks completed 2X faster when you opt for Intel's Optane Memory. 40% faster Wi-Fi with Wi-Fi 6 and two Thunderbolt 3 ports. Intel gives you the options only true configurability of NUC affords.
In fact, NUC is made for our fast changing times with outstanding configurability. Customise with things like Desktop Discrete Graphics upto Nvidia Quadro P 2200. Works with more than 22 applications including Adobe Creative Suite and Autodesk Auto CAD, supports high end desktop graphics cards. NUC is made to face both today's demands and the future's with delightful versatility.
Need a bigger graphic card? No problem Intel is also working with third-party vendors to allow further customisation so you can create the perfect mini-PC to fit your workload. One of the first solutions available, is Cooler Master's NC100 chassis which uses the Intel NUC Compute Element and increases the size to allow larger graphics cards, all the way up to NVidias latest RTX 3070.
Consider how the creative process is integrating with all the other elements of the marketing supply chain today…You may need 3D Modelling, data visualisation and even product development design in your arsenal…What could feel overly complex is simplified by Intel NUC. Available through Centre Com, you can talk through what your needing and configure like never before.
We've come a long way from 1984. For the real world today and the cyberworld fast evolving, it's solutions like NUC that are the real breakthrough. Find out more from Centrecom.
See our range of NUC 9's at Centre Com here.
Have something to say on this? Share your views in the comments section below. Or if you have a news story or tip-off, drop us a line at adnews@yaffa.com.au
Sign up to the AdNews newsletter, like us on Facebook or follow us on Twitter for breaking stories and campaigns throughout the day.