The ubiquitous rise of automated ad targeting and the growing vastness of ad networks have made it increasingly hard for brands to keep track of where their digital ads end up. Twitter has collaborated with a number of hand-picked media players to ensure brand safety for advertisers on its platform.
Digital media has borne the brunt of recent brand safety issues with programmatic in particular facing the heat. Some have made headlines over ads from household brands being placed alongside unsafe video content.
Thanks to the rise of automated ad targeting systems and vast ad networks, it's become increasingly difficult to keep track of where ads might show up. Just last month, ad placement vigilante group Sleeping Giants launched an Australian Twitter account calling out dozens of Australian brands for placing material next to harmful content such as stories on alt-right site Breitbart.
The mass YouTube exodus saw the Google-owned company face its first decline in digital media ad spend for nearly eight years, according to SMI figures for February 2017. Since the backlash, YouTube vowed to do a better job policing its content and give marketers more information about where their ads appear across the service, as well as setting a 10,000 view threshold for a video channel to reach before it can make money from ads. Some big advertisers have since returned.
Other social media companies are endeavouring to avoid the same brand safety headaches that have plagued their rival, investing in ways to ensure they are reaching the right audiences and not impacting brand reputation.
Twitter has rolled out an in-stream video advertising product in Australia that aligns brands with pre-vetted videos from a selection of partners, including top TV networks, major sports leagues, large publishing houses, magazines and news outlets. It includes pre-rolls and mid-roll ads.
It's a model that has had success in the US, launching earlier this year. A study by research firm Kantar Millward Brown found the format showed a strong impact in upper-funnel metrics like ad recall, brand favourability and purchase intent.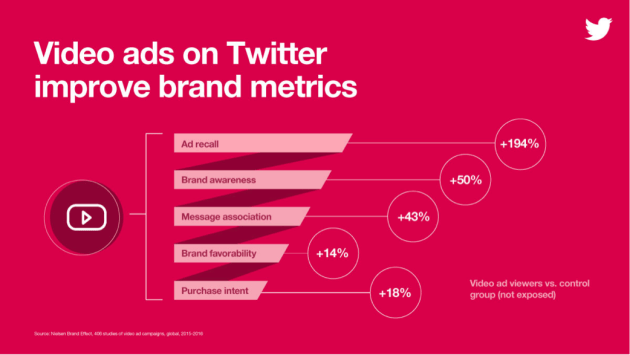 Results from a Kantar Millward Brown study
In Australia, Seven West Media and BeIN Sports are on board as content partners for in-stream videos, with big brands SportsBet, NAB and Woolworths already secured.
Facebook and Twitter are now competing neck and neck in the video ad space. Facebook recently introduced new monetisation eligibility standards designed to provide clearer guidance on the types of content that will be allowed to have advertising run alongside it on the platform. For example decreeing not to place ads alongside content that focuses on violence.
But unlike Twitter, Facebook won't give advertisers the ability to specify which content they want their ads to appear alongside, instead they will be required to "blacklist" specific publishers. Twitter's strategy of only working with selected and vetted partners also helps guarantee the production of premium content.
"We believe our product is different to all the other products out there because we are working with really established, hand-picked partners. We haven't cast our net over thousands of publishers," Twitter Australia head of video Lottie Laws said.
"We share with all our advertisers the up-to-date whitelist of publishers so there are no surprises and there is flexibility for advertisers and publishers to make exclusions if they need to. Ultimately, the content benefits because there are measures in place and it isn't a blanket approach."
For example, Seven West Media's Screenplay has channel exclusivity with St George Bank and therefore is able to blacklist any other finance players from appearing in its content on Twitter.
Twitter's in-stream video has worked most successfully when targeted at the most relevant content category, according to a study by Publicis Media and Twitter. For example, when a sports drink ad appears in front of a sports highlight clip, higher brand impact is achieved across key brand metrics.
"We've seen over the last few years that the capacity to marry specific brands to publishers around key moments is not only brand safe, but delivers the best results," Laws said. "In-stream video ads are an extension of this, now allowing us to group publishers together across 15 categories for a scalable solution."
A collaborative approach with social media companies allows advertisers to track where consumers view content directly and reduces the risk of unsafe branding. Twitter has been working more closely with brands over the last six months to help create content that fits best on the platform, says global VP of revenue and operations Matthew Derella.
"Advertisers aren't just giving us a TV spot anymore. They are talking to Twitter and engaging us to help them shape content, which leads to a more natural experience for the consumer and stickier content," he said.
Matt Derella
What's the answer?
Digital media is a difficult area to police due to the sheer volume of content and the rapidly changing nature of the industry.
Even if artificial intelligence could sort through the sheer volume of content, it cannot always be trusted to make good judgement calls about quality and contextual relevance of ad placements. These types of judgements require the personal analysis only a human being can provide.
For now, the real solution is for marketers to focus on quality placements with trusted publishers. Top marketers are endorsing this approach. Unilever CMO Keith Weed said his company found its ads are more effective when they run alongside premium content. He urged others to take better advantage of the safeguards that are available to them.
Likewise, MasterCard CMO Raja Rajamannar said he'd much rather pay more for verified sites than have his ads appear alongside false and misleading stories. Marketers are more clued on to the risk of bankrolling sites that are toxic to society in the post-Trump fake news era.
"We have machine learning in place but that is a safety net. We use that to make sure our publishers are uploading brand safe content but our main process of vetting is working with only trusted publishers that we know have accepted the terms to only monetise content that is suitable," Laws said.
It's not only marketers that want trusted environments. A CMO Council study found that one-third of consumers rethink purchasing from brands when they see them advertised next to objectionable content.
With both marketers and consumers paying more attention, YouTube, Facebook and Twitter are being forced to move faster to ensure brand safety as well as viewability, transparency, measurability and effectiveness. It's a hard feat, but all three are making strides, with Twitter currently leading the pack with its no-blanket approach.
"We want to lead the gold standard of measurement and transparency," Derella says. "We have partnered with IAS, MOAT and multiple third parties to guarantee when you advertise on Twitter, you will reach humans.
"Marketers have been robbed of control for a long time and now, we are giving it back to them."
This is a feature from the October issue of AdNews Magazine. You can subscribe to the print edition or download a digital version here.
Have something to say on this? Share your views in the comments section below. Or if you have a news story or tip-off, drop us a line at adnews@yaffa.com.au
Sign up to the AdNews newsletter, like us on Facebook or follow us on Twitter for breaking stories and campaigns throughout the day.