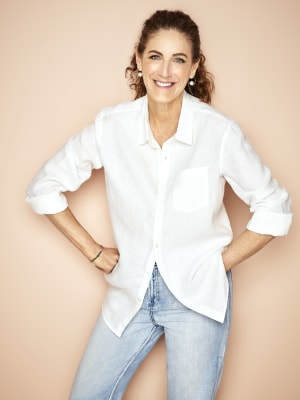 As part of International Women's Day 2021, AdNews is celebrating women in the industry. Here, Be Frank Group founder and media publishing icon Jackie Frank champions female leadership and success. 
In 1995 I was given the once-in-a-lifetime opportunity to launch marie claire, an iconic global brand, in the local market.
From the outset I had the vision that this fashion magazine had to be driven by purpose; that we would always make a difference in the lives of Australian women. That same mission is the thread that runs through both my personal and professional lives.
marie claire went on to become Australia's number one selling fashion magazine and I oversaw more than 2,000 issues as editor, then publisher and finally general manager.
While my commitment and passion is as strong as ever, in that time the publishing and retail landscapes have undergone seismic changes.
In 2018, it was time for a new challenge, and I started the brand consultancy Be Frank Group, along with becoming a board director for Mosaic Group.
The advent of the digital world, the rise of social media, and the drumbeat of globalisation have seen the terrain shift profoundly.
I have learnt that despite the disruption our industry has faced, the keys to building a thriving business remain constant and what drives success, what builds brands and what translates to sales is never losing sight of the consumer and their wants and needs.
The power of storytelling
I spent more than three decades in the publishing industry, bringing readers into the world of fashion, beauty, social trends and engaging with powerful life-changing issues through storytelling.
Stories are part of our day to day and can have commercial benefits that go well beyond entertainment value. As in publishing, the crux of getting someone to buy comes down to engaging the consumer in more ways than just product and price.
I can unequivocally say that good content which engages the customer will lead to increased sales.
Consumer first
Publishing enabled me to work across different categories, including closely with advertisers who would often come to us for help and to problem solve. Time and again, the solution ultimately lay in connecting with the consumer.
Having gone from fashion editor to editor to publishing executive to creative agency director, consultant and board member, the common thread is that they all hinge on knowing your customer and how to best engage them.
As creators and leaders, our job is to identify the values that our brands represent and to invite the consumer into that brand story. But there's a way to tell it, a way to build your message and be real.
Today as a board member, my focus is still all about the consumer.
The retail world, especially fashion, is so often relentlessly youth-focused however the Mosaic Group consumer is the 50 plus market.
Generally speaking in the industry this demographic has been largely ignored in the blind rush to appeal to Gen Z and Millennial shoppers and I think that is a huge mistake.
This invisible generation, as I call them, represents a significant commercial force. According to the ABS, by the first half of this decade, those 55-years and older will hold more than two-thirds of the $2.3 trillion in household wealth generated in Australia.
The roadmap for success
One of the most important things that I came to see clearly from my days as a publisher is that people want to be part of a community and that truth remains as relevant and necessary in the retail world.
We all want to feel like we are part of something bigger, to be part of a tribe. Essentially, it's about community .
What unites the online and offline worlds, and the publishing and retail sectors, is the power of great content to help brands create an emotional connection to help build community.
The proliferation of digital channels today means that retailers now have a multitude of platforms on which to directly connect with their customers and that association demands authenticity.
Authenticity is also crucial for those in leadership roles. For example, I have always been unashamedly female-focused and driven to contribute to social change.
Skills can translate
Too often people, especially professional women are pigeon-holed in their careers or hold themselves back.
As a Director of a listed company I'm convinced more than ever that diverse thinking and opinions are critical and your skills can translate in the boardroom. In my case from publishing and consumer insights.
I think too many women risk thinking they don't have the right background or experience to be a Director, but in today's changing world a board needs more diversity and they need skilled women outside the financial and legal areas.

Be agile
This year, the very foundations of every industry have been profoundly shaken by the global coronavirus pandemic.
This crisis has emphasised how important it is to always be agile and to be able to pivot. In my case, that means rapidly identifying the fast shifting needs of the consumer and making sure that we are placed to meet them.
The pandemic has profoundly affected our daily lives and dramatically raised levels of anxiety and uncertainty.
Overnight, the consumer habits changed and we needed to look at real time market data to look at what people wanted and how to get it to them in a fast, frictionless way.
Throughout my career I always needed to be quick on my feet and totally solution-driven, be it finding creative answers for our businesses and our advertising partners. No matter, the end goal was the same: Engaging the consumer and increasing revenue.
It's cool to be kind
The COVID-19 pandemic has made kindness cool.
I have found there is something interesting in how generosity of spirit, of approaching the world with a kinder stance, has become a truly valued quality in both the way we conduct ourselves personally and professionally.
In 2020, brands have an unprecedented responsibility to play a more substantive and meaningful role in their customers' lives. Wherever we spend our hard earned money, we want it to go to products and companies that share and amplify the values that matter to us.
At Be Frank Group, this year we collaborated with the fashion retailer Seed Heritage to translate this thinking into action by launching Seed of Kindness and the Seed of an Idea campaign to support female founders working in the social enterprise space.
Get outside of your comfort zone
It sounds like a bumper sticker but that doesn't diminish just how important it is to know that life really does begin outside your comfort zone.
Leaving publishing and starting the Be Frank Group taught me not to fear change but to embrace it and that it is a barrier you can overcome.
COVID has has only reinforced that message.
The unknown is something we are all learning to live with and I'm grateful that I pushed myself to leave a seemingly secure job in an industry I knew intimately to start my own company. What inspired me were the many young entrepreneurs that I had been meeting and writing; their bravery made me want to give it a go.
On a personal level, I would attest to the fact that launching yourself into the unknown and taking a risk to try something new are truly invigorating for minds, creativity and careers.
Collaboration
The people you surround yourself with hold the key to your success. Remember, back yourself but also know what you know and surround yourself with others talent that can enhance your skill set.
Curiosity and passion
This year marks 25-years since I first sat in the editor's chair. On that day, as I stepped into my brand new office ready to begin a journey like no other, I knew I had been given an opportunity to play a meaningful role in millions of women's lives.
Today, through my work with Be Frank Group and Mosaic, I still wake up every day, not only driven but excited, to fulfill the same role.
And that might be the most important lesson of all the ones I have learnt: There is absolutely no substitute for passion.
No matter if we are talking about staff, products, launches or campaigns, passion is the driving force that will propel you and your business to the next level.
Have something to say on this? Share your views in the comments section below. Or if you have a news story or tip-off, drop us a line at adnews@yaffa.com.au
Sign up to the AdNews newsletter, like us on Facebook or follow us on Twitter for breaking stories and campaigns throughout the day.