Stephen Fry is a self-confessed Apple 'Fanboi'. After a series of excited texts during the iPhone 6 launch he tweeted the following in relation to so some flak he was copping "Just adore apple-haters. Imagine if people talked about Mercs or BMWs with such spewing bile! Funny old world."
It may have been a coincidence that he referenced BMW in relation to Apple, but recently released data from Exponential suggests that it shouldn't be a surprise. The report, which looked at the anonymous online behaviour of 1.7 million Britons who were researching mobile phones, and compared their strongest interests across topics including celebrities, film, sports, travel and cars – found that iPhone lovers were almost 22 times more likely than the average internet user to be interested in the BMW 530. Conversely Samsung fans were 13 times more likely than average to be researching the Toyota Prius, perhaps in a nutshell demonstrating why iPhone and Samsung fans seem to be so diametrically opposed.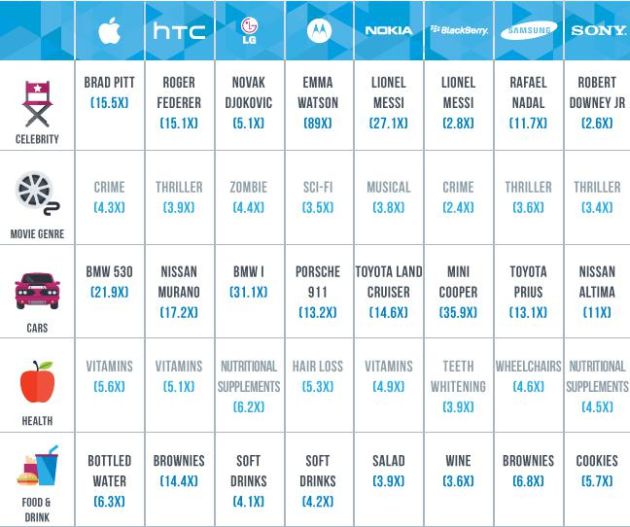 You can read more about the research here (it is UK data but experience dictates that Australia would broadly correlate) but the snapshot summary is that Samsung users skewed older, Blackberry to business people, Nokia for the less tech savvy (no kidding) and iPhone hits an odd hybrid of trend setters who opt for some demographically 'older' behaviour such as booking cruise holidays. Perhaps the less charitable of us might suggest the free download of U2's new album and their performance at the US launch is a strong nod to this.
Irrespective of whether you will be amongst the four million first-day pre-orders for the iPhone 6, the device's launch is significant for the media industry in Australia as it will give advertisers more opportunities to connect with their audience than ever before.
The larger and higher resolution screen means that video and rich media opportunities which were previously confined to tablets are now possible. This will make mobile branding campaigns increasingly viable as iPhone users plus Android users equals much greater scale.
For smart brands, this means working with app publishers to get truly creative on native advertisements. Everything we know about consumer behaviour means that explicit advertisements popping up on their lock screen will still be unwelcome, but location based native advertising will be a no brainer with the technology and information services already in place. It's now truly possible to imagine a scenario where an iPhone (or smartphone) user can book a reservation at a specific restaurant in their city directly from a notification triggered by reading a review or associated content and sent by an app like Dimmi. I'd go so far as to say users may well spend less time in apps where they are exposed to traditional advertising, so interesting times are ahead for the monetised app business model; and more complexity ahead for planners.
You could say this is a good example of yet more fragmentation within an already fragmented market but I think that one of the problems within our industry is that we are still talking about the market being fragmented and consequently playing catch up. Let's just all get over that. A fragmented market IS the market now. It is time to get ahead of the changes and stop trying to just adapt what we already do.
Yes inconsistencies and uncertainty about what branding metrics to apply are significant inhibitors to the creative and market size growth of mobile advertising. Yes it is hard to standardise and sell consistent units across different platforms.
But we can't keep using these old excuses. It is time for marketers to hurl themselves into the 'new mobile world' and join their consumers who are increasingly comfortable with holding their 'lives' in their pockets, on devices that would have been considered eye wateringly expensive ten years ago. To them it's simple – they will spend big because it makes their lives easier; keeps them connected and informed; and enables them to transact. And the list goes on.
Brands just need to get on board and use the extraordinary spread of data available to better understand their consumers and their device usage, deliver relevant, value-adding, location based and 'sympathetic to their user experience' type advertising experiences.
It's time to get creative (just don't use a U2 soundtrack).
Ben Maudsley
Managing director, APAC
Exponential
Sign up to the AdNews newsletter, like us on Facebook or follow us on Twitter for breaking stories and campaigns throughout the day.
Need a job? Visit adnewsjobs.com.au.
Have something to say? Send us your comments using the form below or contact the writer at adnews@yaffa.com.au