The year 2017 has been one that's seen the industry flooded with sweeping statements about different media channels working or not working. Ridiculously binary arguments for example; social media doesn't work, TV is dead, digital can't build brand - and other headline-making generalisations. 
The reality is that consumer behaviour continues to change and for our industry to flourish we must ensure we can find effective and sustainable ways to deliver both content and marketing messages to consumers to drive meaningful outcomes.
Australians aged 18+ are now consuming over 82 hours of digital content per month on key digital devices and over 25 hours of digital video. These ever-changing consumption habits mean that audience measurement methods constantly need to be updated as well as metrics needed to review the effectiveness of investments made by advertisers.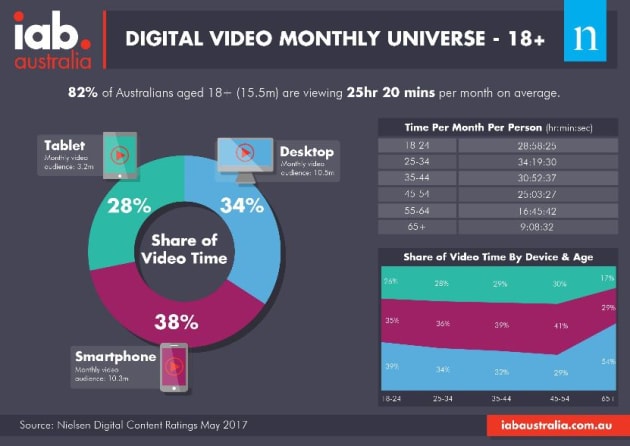 DCR Video Measurement Bring Cross Device Consumption Data to the Australian market
IAB Australia is determined to keep bringing data to the table to help inform and educate the market as well as assisting agencies and marketers in using metrics in the right way to assess investments.
We regularly publish independent industry data on ad blocking, viewability, invalid traffic, digital ad expenditure as well as a load of detail on media consumption habits. However, we are challenging the market to bring more data and insights to the table as well as reviewing the challenges and opportunities ahead in the next 12 months. So this is why we have decided 2017 is the right year to launch a conference dedicated to measurement, metrics and marketing effectiveness.
The inaugural MeasureUp conference will be held on October 10th in Sydney.
In reviewing speaker submissions for the conference a few themes popped out: media quality and context, cross-media challenges, using digital for branding and measuring impact. These topics amongst others will be addressed by overseas and local speakers from organisations including CommBank, Facebook, IAG, Nielsen, Google, News Corp, Kimberly-Clark, Ebiquity, Kantar Millward Brown and many others at the inaugural MeasureUp conference.
All conference speakers are being challenged to bring data and proof to the table – reviewing both the things that have worked and as importantly things that haven't worked for them.
One person who can help address some of the important cross media measurement conversations that need to take place in this market is Megan Clarken, who has been the key person driving the inclusion of catch-up TV and digital video audiences in the TV ratings currency in the US.
Clarken, the global lead for media measurement for Nielsen globally, recently announced the inclusion of Facebook and YouTube off platform video views for US TV and video publishers. These moves will be of particular interest to Australian publishers who have seen a more accurate representation of their text audiences through the launch of Digital Content Ratings by IAB Australia and Nielsen. Clarken will give a keynote address at the conference reviewing global developments in total audience measurement.
Megan Clarken, President, Product Leadership, Nielsen
Digital media has been great at creating new metrics but less successful in differentiating those which are drivers for great marketing outcomes. How do we as an industry provide comparable metrics across very different media offerings that actually help advertisers assess the impact of their spend? How do we make the most of a myriad of different data sets and metrics while not adding unnecessary complexity or adding to fears regarding lack of transparency?
Brent Smart, CMO of IAG will be presenting at MeasureUp 2017
One person who has been very passionate about this subject is Brent Smart, the CMO of IAG, who at the recent AdNews Media and Marketing Summit event said that "Measurement metrics are like crack," and reminded marketers of the risk of just focusing on convenient metrics that tend to focus on very short term business objectives. Six months into his role at IAG, Smart will be sharing data that has helped IAG to reassess their media strategy at the MeasureUp conference in October.
IAB Australia's MeasureUp conference will be held on 10th October in Sydney. Agenda details and early bird tickets can be found on the MeasureUp website.
By IAB research director, Gai Le Roy