Valentine's Day is nearly here which means brands have started rolling out their love-inspired campaigns.
This year brands take a humorous approach to celebrating the day, stepping away from the typically romantic tone. For example Snickers recognises that the much-hyped day doesn't always go to plan with its #SmoothItOver campaign.
However, tapping into the special day is increasingly difficult for brands, as consumers become more critical of messages they put out, particularly around dating and relationships.
Delta Airlines and Coca-Cola came under fire for a cheeky, yet controversial, stunt where passengers were encouraged to share their numbers with each other on napkins. The airline eventually had to apologise for the stunt after Twitter users expressed their disapproval of pushing 'back in the good old-days' techniques.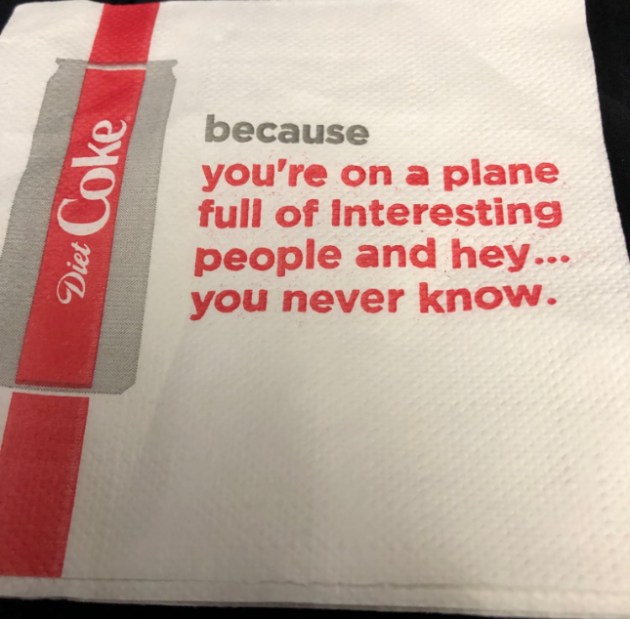 Delta Airline's napkins
Here's a wrap of the good, the funny and the unfortunate Valentine's Day campaigns.
KFC's competition for super fans
KFC has a Reddit competition where fans can win a date night package, including a Colonel Sanders bearskin rug, two fried chicken pyjama onesies, a gift card for KFC for a year and a subscription to an online streaming service for endless date night entertainment.
The competition includes a photoshop battle, storytelling challenge and a drawing duel, and is exclusive to Reddit.
The KFC rug
Dyson Singapore
Dyson kept its Valentine's Day ad simple with cupid shooting an arrow through its bladeless fans and straight through a love heart.
The Wild Life Sydney Zoo
Not feeling the love this Valentine's Day? The Wild Life Sydney Zoo has a competition encouraging people to name a snake after an ex. It's not just any snake either, it's the 'world's most venomous snake'.
Submissions must make a $1 donation to its Wild Life Conservation Fund so entrants can have the added feel-good bonus of helping wild animals.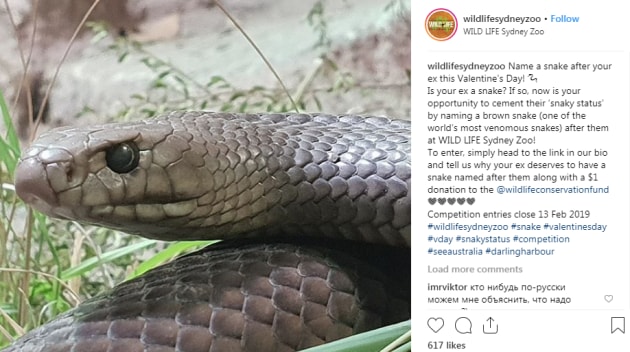 The Wild Life Zoo competition
DB Export Beer
Alcohol brand DB Export Beer has released a humorous R&B music video that turns drinking low-carb beer into a selfless romantic gesture.
The music video, which is nearly four minutes, has already climbed to number two on New Zealand's iTunes Charts.
Snickers
Snickers knows Valentine's Day doesn't always go as planned, the campaign by BBDO NY anticipates all the awkward moments on the day for its new Creamy Snickers bar, telling people to #SmoothItOver the next day.
In addition, a campaign has been rolled out where fans in the US can tweet about their unsmooth moments that lead to 'nomance', along with the hashtag #SmoothItOver. The winner is given a Creamy Snickers-infused flower bouquets to give to their partner or best friend... or keep it for themselves.
Platinum Guild International
Jewellery brand Platinum Guild International released its #EqualsInLove campaign created by Dentsu Webchutney that challenges traditional gender roles. In one of the videos, a young couple is seen inspecting a house before the woman asks the man to marry her.
In another video, the couple are discussing work before the man decides to quit his job while she supports them financially.
Origin Energy
Origin Energy released an ad for the brand's 'Good Energy' platform. The spot, created by TBWA Melbourne, encourages Australians to save on electricity bills.
A few lessons on how not to do Valentine's Day
Loft Co
Loft Co., a company which sells everyday items in Japan and Thailand, came under fire for its Valentine's Day campaign, which portrayed women in an outdated fashion. The ad features blonde-haired women discussing boyfriends before turning on each other with some old-fashioned backstabbing. By the end of the spot they even physically harm each other.
Twitter users were upset it pushed the stereotypical and old-fashioned ideas that women value their relationships with boyfriends over friendships, and that all women resent each other.
Loft Co.'s tweet
Revolut 
UK financial technology company Revolut learnt the hard way that Valentine's Day isn't a free pass to take a swipe at singles. Financial expert and Young Money Blog founder Iona Bain took to Twitter to express her anger at its campaign, which had the text: 'To the 12,750 people who ordered a single takeaway on Valentine's Day' followed by 'You ok. Hun?'
Bain called out its patronising language and 'awful' single-shaming. She also raised the issue of using people's data for 'cheap' advertising which creates the perception that brands don't always use our private information for our best interest.
How much does this ad infuriate me? Let me count the ways. Firstly, patronising language & awful single-shaming more redolent of early 2000s Bridget Jones, not a modern and empowered fintech brand (1) pic.twitter.com/rnIg3YXRfq

— Iona Bain (@ionayoungmoney) February 4, 2019
Woolworths South Africa
In South Africa Woolworths also had a misstep and pulled is nationwide Valentine's Day campaign after social media backlash. The work included a series of signs that described a typical relationship, including one that read 'She orders a salad and then steals your chips'.
Woolworth's ad
How influencers spend Valentine's Day
No one can escape Valentine's Day without being flooded by influencers sharing their day, so here's a little of what to expect.
Digital marketing agency Iconomy Group released a study of more than 1000 influencers and found 72% of influencers said they look to other influencers for gift inspiration over TV ads, magazine ads and brand websites. This helps explain why it feels like we see the same products across our feeds.
The study also found 12% of influencers buy gifts for their pets and millennials increasingly prefer experiences over gifts.
Another notable trend was buying presents for people other than their significant others, with 42% of influencers buying a gift for their friends and 38% for themselves.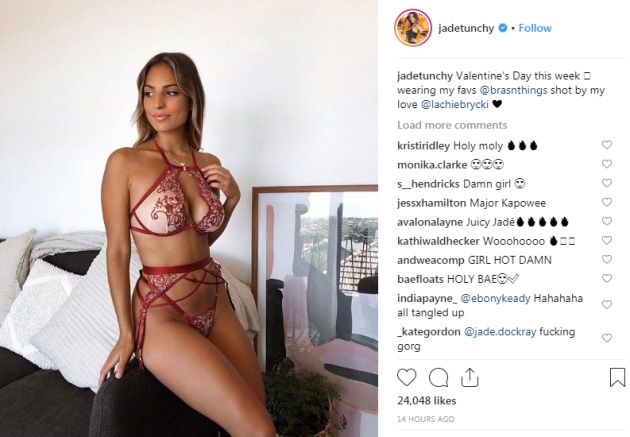 Jadé Tuncdoruk celebrating Valentine's Day on Instagram
Did we miss any Valentine's Day campaigns? Email me at mariam@yaffa.com.au
Have something to say on this? Share your views in the comments section below. Or if you have a news story or tip-off, drop us a line at adnews@yaffa.com.au
Sign up to the AdNews newsletter, like us on Facebook or follow us on Twitter for breaking stories and campaigns throughout the day.