The first quarter ratings calendar has ended, with Nine's Married at First Sight (MAFS) dominating numbers and conversations.
AdNews spoke with heads of programming for Nine, Seven and Ten to find out what flew in Q1, what challenges reared their heads, and what lies ahead for the rest of the year.
2019's kickoff looks very different to the last five years, with Nine airing the Australian Open, Seven running the Big Bash and Ten taking a new content approach to a schedule without sport.
Nine program director Hamish Turner told AdNews these changes had a major impact on how the network started the year, with the Australian Open's success acting as a launch pad for MAFS.
The reality dating show was a juggernaut in 2019, consistently going above 1.3 million overnight metro viewers and setting ratings records, closing out the season with 1.96m viewers tuning into the finale.
"Getting the Australian Open and having that marketing platform which we then use to cross-promote all our Q1 shows with a very similar audience cannot be understated," Turner says.
"The start and success of Q1 comes back to our approach to the consistency of schedule, MAFS has been something that has been growing over the last five years, with it steadily rising over the past three and peaking this year."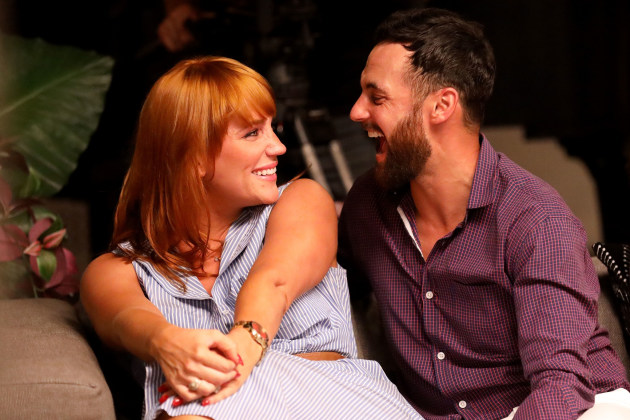 MAFS couple Jules and Cam
While the overall ratings story is not reliant solely on the 7:30pm timeslot, both Ten and Seven were bruised by its success, as the show's strong numbers pulled eyeballs away from My Kitchen Rules and I'm a Celebrity Get Me Out of Here.
Seven director of network programming Angus Ross says the success of MAFS "will certainly influence" the way the network looks at Q1 programming in 2020 as it aims to do better in the primetime slot.
Despite MAFS eclipsing MKR in the first quarter of 2019, with the show struggling to break out of six digit overnight viewing figures, Ross says the network was still happy with the reality cooking show's performance.
"Even with the success of MAFS, MKR was still the second-best performing entertainment program in the primetime slot, and when you look at what Ten threw up against Nine, not much stuck there so we are happy with the performance," Ross says.
"Keep in mind, we aren't just a one network show either. We have our three pillars of news, sport and entertainment and the first are growing in every market around Australia, we're also dominating breakfast, while our AFL numbers are already up."
Ross added that the focus for Seven in Q1 of next year will "definitely be about finding a way to combat MAFS", with the network already working toward a strategy to take on the ratings giant.
"Traditionally Q1 has been a very dominant quarter for us. We've been handing out punishment to the opposition for about 10 years now in that quarter so following the success of MAFS, we will be aiming to improve our position next year," Ross says.
'We have to look at that and say well we want to do better than we did this year and what are we going to do to tackle it."
Angus Ross
Ten chief content officer Beverley McGarvey agreed with Ross, adding that MAFS was a complex program to go up against, but also praised the show for "proving the value" of free-to-air TV.
She says Ten's goal in the start to 2019 was to "establish the fact" that you can build a summer entertainment schedule without sport underpinning the overall direction.
Throughout January, Ten showed signs that this was possible, successfully launching I'm a Celeb to over one million overnight metro viewers while beating Nine's first week of the Australian Open and topping the Big Bash on multiple occasions.
"Really the big challenge for us was proving that we could launch a schedule in summer against sport and make it work," McGarvey says.
"We think our biggest success of the year to date was actually achieving that and having Celebrity launch at the beginning of the year, beating the cricket every night it was on, beating the tennis more than half of the nights it was on."
However, McGarvey says the complexity of launching a schedule into February without having sport to promote it through is something the network needs to have "a serious think about".
Ten's I'm a Celebrity cast
She says the disappointing numbers that came with Ten's version of the popular "Takeaway" franchise gave the network something to think about for 2020.
Ten launched it's version of Sunday Night Takeaway up against MAFS, with the show struggling.
McGarvey says the network didn't expect "everything to work" in Q1 given that it was stepping into unfamiliar territory for the first time in five years.
"This year, we're ahead of things now that CBS has been our owner for quite some time, we're just operating with a better commissioning strategy with them timewise," she says.
"We have already confirmed our plans for Q1 next year based on the things that worked and the things that didn't work. We know what we're doing next year which is probably four or five months ahead of those decisions last year."
Second quarter expectations
Q2 is well underway, with Nine off to a strong start with its newest reality show Lego Masters proving to be another primetime ratings success.
The show, hosted by Hamish Blake, has consistently held above one million overnight metro viewers since its launch at the end of April.
Turner says the rating success wasn't unexpected, with the network taking a "measured punt" on a format that felt "fresh but still familiar".
"We had that momentum out of Married at First Sight so we got people coming in and sampling Lego Masters as a result," Turner says.
"The really pleasing thing is that they've stuck around and then we've retained a big chunk of that audience. We've seen that flow through and it's now definitely delivered above expectation but obviously the ambition, when we commissioned it, was for it to do just that."
Hamish Turner
While questions have been raised over the future of "traditional reality tropes", Ross remains confident in Seven's second quarter offering as the network's "painful birth" of the latest season of House Rules continues.
He says while the show is a "slow starter", the latest series is up on last year already and Seven remains confident in its success.
Seven will also look to AFL viewers as a means of supporting its overall Q2 ratings performance, with Ross pointing to the strong performance of its analysis program The Front Bar as an indication for the rest of the season.
Last week, the show hit a season-high, going over 500,000 metro overnight viewers. Conversely, Nine announced that it would be scrapping its AFL Footy Show after 25 years.
"AFL is absolutely key, as well as the Front Bar down in Melbourne. We just let them do their own thing but what a thing they are doing at the moment because they are just killing it already this year," Ross says.
Nine will also be looking to cement solid ratings in its sport offering, as it prepares for the start cricket's most well-known test series, The Ashes.
Despite Seven and Foxtel having the domestic rights, Nine still kept the coverage of the five-game series between Australia and England.
Turner says this will be an "extremely valuable" part of the second quarter when it kicks off on Nine from 1 August.
"The series will sit on both Nine and Gem, depending on timings. The great thing about it is the time difference," Turner says.
"This year, some games will begin at primetime, and based off previous results where we saw numbers of 500,000 to 600,000, we have high expectations once again."
Seven has also teased the return of Australia's Got Talent, which Ross says will return in the second half the year. However, he confirmed Seven has no intention of running it up against Nine's own reality singing show The Voice.
"In my world, it would not be ideal running two similar formats up against each other like that, so no it's not my intention to run Australia's Got Talent against the Voice, that wouldn't be a good result for anyone," he says.
"It's still one of the biggest shows in the world and we think the reinvention we're going to do of it this year is going to make it a very solid proposition for us."
Beverley McGarvey
For Ten, the focus remains on using MasterChef as its main vehicle for driving a "consistent viewer base" as it looks to grow the level of engagement with "evening slot" programs.
Last year, the network proved the value of the 8:30 - 9pm slot, with its weekly celebrity game show, Have You Been Paying Attention? drawing audiences of over 600,000 metro viewers.
"The interesting thing about Q2 for Ten is that we are comfortable with what MasterChef provides as a solid base audience that we will use to achieve network share improvement through," McGarvey says.
"Our 8:30pm shows are going to be really important because that's a real opportunity we see compared to the other networks.
"We will focus on holding onto that audience later into the evening and, when we play local content at 8:30pm as we did last week for example with Bachelor in Paradise, you can see that has a really strong effect in terms of improving network share."
McGarvey says this is something viewers will see throughout the year, especially as The Bachelor, Bachelorette and Survivor return in Q3.
Overall, each network will remain focused on their key strategies, with Seven confident in taking total audiences, Nine continuing to find ways to reach key demos and Ten looking to create new audiences through alternative programming.
The chart below, provided by Nine, show's the figures for each major network in the year to date:
Have something to say on this? Share your views in the comments section below. Or if you have a news story or tip-off, drop us a line at adnews@yaffa.com.au
Sign up to the AdNews newsletter, like us on Facebook or follow us on Twitter for breaking stories and campaigns throughout the day.