Unlikely brands are switching to subscription services and flaunting their personalities to reach modern consumers who have less disposable income but are inclined to purchase more than previous generations.
Speaking at an event in Sydney last week, The One Centre CEO John Ford noted the marketing strategies of Mercedes-Benz and smaller players like Korean eyewear label Gentle Monster and Swedish non-dairy milk brand Oatly.
Each of these brands are leading the marketing game in their industry by utilising the opportunities of new technology. They also recognise current generations have different spending habits and social values.
Ford agreed with the growing sentiment that people don't want product or services, but experiences. He gave the room a glimpse of what the future of brands will look like, reflecting on the rise of experiential.
Mercedes-Benz appeals to millennials
In US cities Nashville and Philadelphia people are able to subscribe to Mercedes-Benz's pilot subscription service, the Mercedes-Benz Collection. For a monthly fee ranging from US$1000 to US$2000 they can access a range of models from the car brand.
It joins others, such as Porsche and Volvo in offering subscription services. However, Audi is the only company that promises to bring the business model to Australia, with Audi on Demand expected to launch by 2020.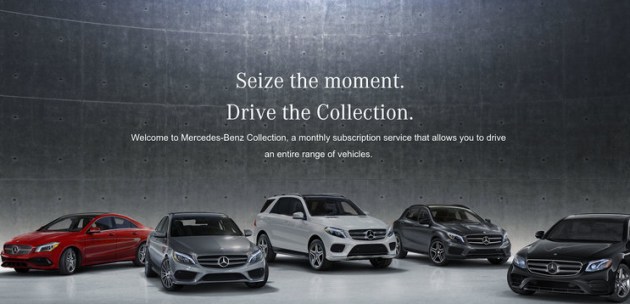 The Mercedes-Benz Collection
Reports show that millennials earn less than previous generations and, as more and more people live in crowded cities, it's important for iconic brands to remain accessible.
"Access is the new ownership and millennials are more interested in subscription services than any other generation," Ford said.
"It's a completely different mindset."
With car ownership, which was once a "birthright" in Australia, declining and services such as Uber increasing, Ford said auto brands need to adopt new financial models to remain relevant.
"Mercedes-Benz is a classic example of a business that is dealing with two great phenomenons," he said.
"One is the change of transportations through the shared economy. The other one is the advent of electric cars with Tesla coming into the market."
As a sign of the times, Mercedes-Benz had its 63 months of consecutive growth disrupted in June when sales declined 2.6% year-on-year. This was followed by an 8% year-on-year decline in July.
"Automotive businesses which have been about selling metal are actually moving into selling services, underpinned by completely new financial models," Ford said.
Gentle Monster defies death
Korean eyewear label Gentle Monster has bucked the trend of decline in retail by making its brick and mortar stores like mini art galleries.
Gentle Monster is rapidly growing, including in the US and UK market, with more than 40 stores globally and its expected to hit $200 million in revenue by the end of 2018.
Ford said Gentle Monster breaks away from most brand by using its communication to create a completely new context in which people want to buy their products.
For example, its 'Once Upon a Future' collection, which includes peculiar-shaped hexagon glasses might not appeal to the average consumer, but backed with a campaign telling the story of a fictional future where humans and aliens coexist, its products become desirable.
"Gentle Monster is taking eye fashion to a completely new level with its experimental art that you wear on your face," Ford said.
It's transformed the eyewear industry from a traditionally one pair a season to high frequency purchases, Ford explained.
"Their products are almost being developed like a Netflix series, they're launching new series, new dramas and new sci-fi film and you just want to buy them. It's a really clever business model."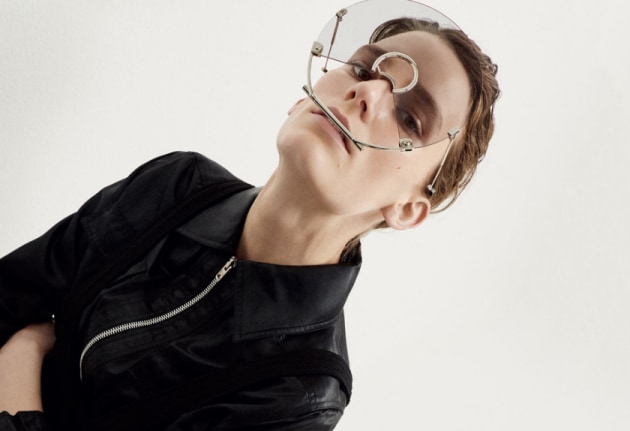 Gentle Monster's eyewear
It releases 140 new styles each year, or more than 10 new products a month, and has attracted the likes of Alexander Wang.
The decline of retail has been an issue for years as online shopping offers consumers more appealing experiences.
However, Ford said with stores that look like art galleries, Gentle Monster is adding an "x-factor" back into the sector.
"It's defying the death of retail," Ford said.
"It's retraining and reframing a new, experimentally minded generation, gen Z."
Oatly flaunts its social values
When the small oat-milk brand was successfully sued in 2014 by the nation's dairy lobby for vilifying cow's milk, Oatly didn't waver.
Instead it published the lawsuit in full on its website and rolled out print ads to let consumers know it would stand up to large corporations with its sustainable product.
Its bold stance followed its 2012 rebrand that saw Oatly overhaul its packaging to look distinctly different from corporate brands on supermarket shelves.
Oatly's bottle design
"It's really important for brands to display very deeply set values and philosophies that is actually built around their business model – the reason why they're out there," Ford said.
"Oatley tapped into three big trends; the global rise of veganism, animal welfare and global ecological sustainability, which is becoming a huge political issue."
Brands are increasingly tapping into their social purpose, from Reebok being vocal about female empowerment to banks promising to divest from coal.
Ford said Oatly's this commitment to social purpose through strong branding is what makes modern consumers attracted to it.
The brand experienced a 45% sale rise in a couple of months following the lawsuit. In New York, where its amassed a cult following, people were paying up to $20 a bottle after a critical Oatly shortage.
As a testament to the brands strong personality, last month the company brought back the "Milk, but for humans" tagline that saw it face legal trouble with Swedish corporations.
Have something to say on this? Share your views in the comments section below. Or if you have a news story or tip-off, drop us a line at adnews@yaffa.com.au
Sign up to the AdNews newsletter, like us on Facebook or follow us on Twitter for breaking stories and campaigns throughout the day.