The sight of a baby's grimace when emptying its bowels: both hilarious, but also a moment of utter dread which all-too-frequently punctuates the life of every parent (Will it leak? Where's the loo? Not.On.My.Clothes!).
No surprise, then, that this universal experience has come to inspire ad campaigns all over the world.
Saatchi & Saatchi London is the latest agency to capture the moment a baby expels the contents of its dangerous little stomach, in this hilarious spot for P&G's Pampers' nappies (which incidentally aren't sold in Aus/NZ, much to the despair of ex-pat parents). 
But they were by no means the first, and it looks like the video has, by and large, already been done here in Australia.
The P&G spot bears a striking resemblance to an ad created in Sydney for Aldi's nappy home brand Mamia (Baby Faces (Ready When You're Not) - Aldi Mamia Nappies), which is equally as funny, two years ago.
Both ads see the babies go through the motions (in glorious slow-motion) and both ads are set to explosive pieces of music: P&G's relies on the clichéd Thus Spoke Zarathustra by Richard Strauss (perhaps best known for backing much of Kubrick's 2001: A Space Odyssey), while Aldi's calls upon the operatic Ideomeneo Re Di Creta.
The Aldi spot picked up a Gold Clio award, was produced by Jungleboys and created in association with BMF Sydney. It can be seen here.
But the fascination with babies poo-ing their pants doesn't end there. Huggies in Brazil charged Ogilvy with running a similar campaign in 2009 where it issued a series of photos on Flickr, submitted by parents whose children were mid-release. That can be seen here.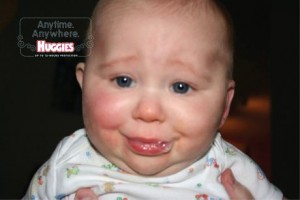 Email Nicola at nicolariches@yaffa.com.au.