OVO Mobile is boasting three-year audience growth that has soared from roughly 200,000 to two million thanks to investment in "sub-culture sports".
Speaking with AdNews, Australian telco OVO Mobile co-founder and CEO Matt Jones says the business lives by the mantra, "you're better off being everything to somebody than something to everybody," and this informs them adding countless niche sport categories to its over the top (OTT) streaming platform OVO Play.
The platform features sports including drag racing, local rugby union competition the John I Dent Cup, eSports and most recently, the international rights to badminton.
Jones says the decision has been about the business' ultimate goal to be the first Aussie start-up to serve a global audience in the content space, with plans to invest in more international sporting rights deals.
"We'll continue to grow the sports rights, but we're always looking for that underserved audience where the content is fantastic," Jones says.
"The sports will follow but it doesn't fit the model of traditional broadcast and we can disrupt that space by offering effectively a digital-first broadcast of those amazing sports and sports properties."
The business, which operates through server agreements with larger Australian telco Optus, says 45% of its customer base has now become a mobile customer based solely on the OVO Play offering, which offers unmetered streaming across the platform.
OVO is also now reporting an average watch time on Facebook of two-and-a-half minutes last month and an average watch time on OVO Play of 48 minutes and 12 seconds, which continues to grow as the business acquires more sports.
Jones says the most interesting development of the investment has been the 20% viewership that is now coming from overseas IP addresses.
"We're just opening the door to the beginning of an Omni-sport/multi-sport platform that can serve, as I mentioned, 220 million niche fans around the world from Australia," Jones says.
"The business model is taking the best of both the traditional media broadcasters and Telcos but also disposing of the worst attributes of both of them, by putting it into an international distribution model."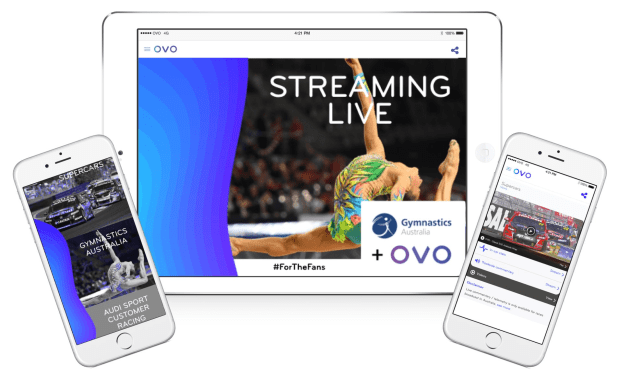 The second part of OVO's strategy, which will launch later this year, is to add premium content to the platform that will become a micro-transaction/pay-per-view model, with $2 or $3 charged to users to watch a premium event from a global broadcast of specific sports.
Jones says the brand is also working towards a premium advertising revenue model, which will include pre-roll and mid-roll being placed in content viewed by non-OVO Mobile customers
"We're testing it at the moment, but our advertising deployment will happen this month and absolutely, we'll effectively monetise our non-paying customers," he says.
"It will differ for one-off events, however, for example, if you register to watch a live event, the bid rates improve so you get full HD and you get casting capabilities turned on.
"However, we're cautious of that going right down to something like a UGC platform where everyone is viewing it on an iPhone.
"We're not positioning ourselves necessarily as having global broadcast TV coverage of every single event and the fans accept that."
Have something to say on this? Share your views in the comments section below. Or if you have a news story or tip-off, drop us a line at adnews@yaffa.com.au
Sign up to the AdNews newsletter, like us on Facebook or follow us on Twitter for breaking stories and campaigns throughout the day.