Ooh!Media has grown profitability at a far greater pace than revenue in 2017, outpacing the outdoor advertising sector in a fiscal year that saw it emerge as a clear number one in this market.
The outdoor company lifted revenue by 13.1% to $380.3 million and, remarkably, gross profit by 21.1% to $175.5 million against an advertising sector that reported 6% growth to $837.1 million.
Ooh!Media now has 8,000 digital panels, 12,000 classic panels and eight online platforms in Australia and New Zealand.
About 60% of its revenue comes from digital out of home solutions (see growth below), which is well ahead of the 47.3% ratio for the outdoor sector.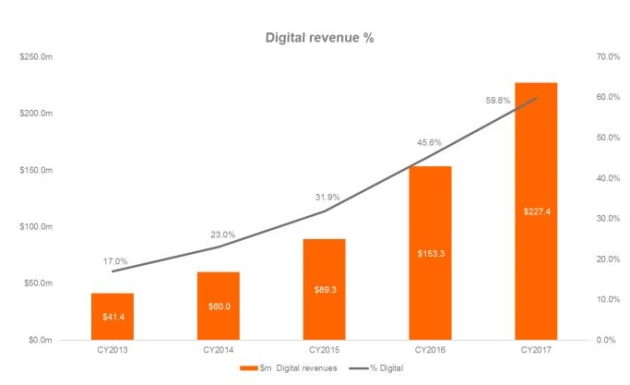 Importantly, Ooh!Media has shored up recurring revenue by increasing the percentage of revenue expiring in three years out or more from 50% in 2016 to 65% last year.
The business also began commercialising buyer demographics data in Q4 through a partnership with Quantium – the only outdoor company to do so.
It is almost a dead certainty Ooh!Media will have put some more space between it and close rival APN Outdoor on the back of this strong showing.
In recent years all outdoor companies have been riding the wave of conversions from static billboard to multi-faced digital panels, which allow inventory pools to grow substantially as faces rotate multiple times on a single digital billboard.
Ooh!Media chief executive Brendon Cook tells AdNews its success is down to an approach to focus on audiences rather than digital conversion.
"When we listed in 2014, the market was very fixated on conversion, whereas we always said that's just one component of what you have to do. You need an audience strategy and to be thinking audience," he says.
"We've developed a whole business in terms of our product mix and the way we interact with consumers in either drive by, walk by or what we call stand by environments (see split below), as well as the technology and non-technology – classic billboards – that we bring together to give advertisers a successful campaign.
"At its heart it goes to one very simple thing – are we delivering audiences the right way to advertisers for location based media."
M&A strategy bears fruit
In recent years, Ooh!Media has made several strategic acquisitions, including Executive Channel Network (ECN), Junkee Media and Cactus Imaging.
These acquisitions have helped Ooh!'s to build its content offering, reach and drive efficiencies.
"If you take an audience view, we are now developing data across multiple audience segments that better define the audience that a particular outdoor sign can deliver.
"Where we then have multiple online products or social media approaches we can take, we are able to link those specific audiences with online content.
"We see out of home not only as a traditional advertising vehicle but as a vehicle for mass distribution of social and native content as well. We've got some very heavy successes, such as Contiki, which they did in student environment adding a 300% ROI lift for them."
Since it was acquired by Ooh!Media in June 2016, Junkee has increased its audience by 30% to 2.2 million unique visitors per month. Cook also strong media bookings interest in office out of home networks Inlink and ECN delivered a strong Q4 and forward bookings into this year.
"The next phase of our strategy is to leverage our investment in data, content and systems to provide our clients with unique and meaningful audience analytics to analyse audience reach," Cook says.
"This investment is ongoing and is fundamental to ensuring our ability to continue delivering strong growth in revenues, profits and create further value for our shareholders."
Ooh!Media plans to spend between $30 million to $40 million on new capital expenditure opportunities this year, which is in line with previous years.
The sorts of acquisitions that Ooh!Media will focus on are those that expand its audiences or improve its capabilities.
Cook was pressed by investors on whether Ooh!Media was looking to collaborate more closely with other traditional media owners, such as TV networks, to drive new revenue opportunities between the channels.
He says that media agencies are largely managing those sorts of planning opportunities and, unless Ooh!Media was able to acquire a TV network it would "not have the right controls to make that work".
"Channel Nine, before we listed, had the opportunity to buy the business. They clearly didn't understand where the future lied," Cook says.
"So what we are really focusing on is location and how we use the power of online location and out of home location to drive greater returns for advertisers."
Results at a glance
Revenue of $380.3m, up 13.1% from the year ended 31 December 2016 (CY16), from strong organic growth and acquisitions made in CY16
Gross profit of $175.5m, up 21.1% on CY16 
Gross profit margin of 46.2%, up from 43.1% in CY16
Underlying[1] EBITDA of $90.1m, up 22.5% on CY16 and within guidance reaffirmed at the half year result
Underlying EBITDA1 margin expansion to 23.7% from 21.9% in CY16
Capex of $33.9m - continued disciplined and focused approach to capex, down 13.0% on CY16
Underlying NPATA1, [2],[3] of $47.2m, an increase of 22.5% on CY16 
NPAT of $33.1m, up 35.5% from CY16
Earnings per share of 20.2 cents per share, up 26.4% from prior year
Fully franked final dividend of 10.5 cents per share, bringing full year dividend for CY17 to [15.0] cents per share fully
Have something to say on this? Share your views in the comments section below. Or if you have a news story or tip-off, drop us a line at adnews@yaffa.com.au
Sign up to the AdNews newsletter, like us on Facebook or follow us on Twitter for breaking stories and campaigns throughout the day.