NewsLifeMedia is the biggest loser of the three main magazine publishers in the latest round of magazine circulation figures.
While Bauer and Pacific Magazines have seen year-on-year overall declines of 8.09%, NewsLifeMedia has suffered a 12.33% loss.
Across its nine titles (not including Taste magazine, which only launched in the past 12 months), NewsLifeMedia's paid print circulation dropped by an average of 12.33% year-on-year in the six months to June, according to the latest statistics from the Audited Media Association of Australia.
The publisher's print sales totalled 580,118 in the six months to June, compared to 661,690 last year - a 12.33% drop.
While Bauer's overall print circulation across its 39 titles fell by 8.09% YOY, this doesn't include Elle Australia or Yours magazine, which launched within the last year, or Shop Til You Drop, which upped its frequency from monthly to fortnightly in October voiding year-on-year comparisons.
Bauer's total print sales in this round of circulations data last year was 2,754,117, compared to 2,531,177 this year - a 8.09% fall. And Pacific Magazines' total print circulation also dropped 8.09%, from 1,842,784 to 1,693,632.
NewsLifeMedia did have one title return a rise in print circulation (Inside Out, which increased by 2.2% YOY to 45,332). Its two worst-performing titles were Super Food Ideas, which fell 20.74% to 135,051, and Delicious, which dropped 20.25% to 92,211.
Men soft, teens lose interest, health and home hold up
It's no surprise that the teen girl magazines are struggling the most. The Children's and Women's Youth categories show the biggest drops in magazine circulation, at 25.97% and 33.36% respectively.
Bauer's Dolly magazine is the biggest loser, with circulation diving 37.59%, from 80,315 in the six months to June 2013 to 50,125 in the half-year to June 2014.
Men's Lifestyle continues to shrink with Zoo's freefall remaining constant and Men's Health sales dropping 17.6%,
Conversely, the Health and Family and the Home and Garden categories held strong.
Home and Garden was the strongest category, dropping just 2.17% YOY. Its strongest performer was Pacific Magazines' Australian Home Beautiful, which grew its circulation by 8.37% YOY to 91,157. Readers Digest's Australian Handyman took the biggest hit, down 9.4%. The rest of the category was flat or marginally up or down.
Health and Family dropped overall by 5.32% YOY. Bauer's Women's Fitness was the big winner here, adding 10.91% to its circulation, to 61,152. In a sign of the times, Pac Mags' Diabetic Living also grew circulation, up 7%, while the other growth magazine was Healthy Life Media's Healthy Food Guide, up 2.2%.
In the Women's Lifestyle category Frankie added another 4.4% to its circulation, consolidating its position as the third biggest women's mag. Harpers Bazaar held steady, as did Instyle and Russh.
Boats and travel: steaming ahead

Looking at the individual titles, Australian Traveller magazine won the biggest print circulation gains, growing 14.5% to 12,423.
Coming second as the biggest grower was Bauer's Trade a Boat. It increased by 11.74% YOY to 13,669.
Digital subs not there yet

When digital sales are added to print sales, Just Magazines' Just Cars was the only title to see YOY gains in this round of ABCs. It grew 0.3% YOY, with total sales in the six months to June of 51,518, up from 51,358 last year.
Bauer's Zoo Weekly, however, saw drastic drops – losing 32.7% of its print and digital sales YOY, from 47,652 to 32,071.
The majority of titles that now have a digital version do not yet have YOY results, as their digital product has launched within the last 12 months. This includes Delicious, Taste, Women's Health, Money Magazine, Vogue Living, Better Homes & Gardens and New Idea.
Click the images to see the numbers for yourself.
Clarification: This story originally suggested that NewsLifeMedia's overall circulation declined the least. Bauer pointed out that our numbers were wrong. We have recalculated the total circulation of each publisher minus titles that cannot be compared like for like and come up with the following declines: Bauer and Pacific Magazines both -8.09%. NewsLifeMedia -12.33%.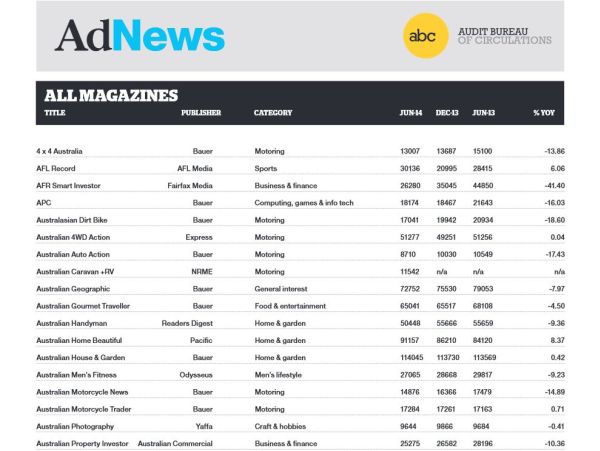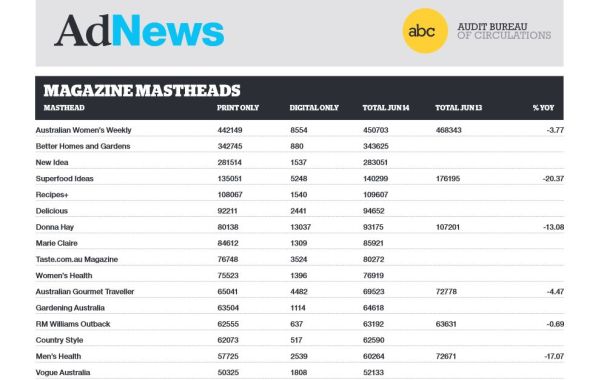 Sign up to the AdNews newsletter, like us on Facebook or follow us on Twitter for breaking stories and campaigns throughout the day.
Need a job? Visit adnewsjobs.com.au.
Have something to say? Send us your comments using the form below or contact the writer at adnews@yaffa.com.au
Have something to say on this? Share your views in the comments section below. Or if you have a news story or tip-off, drop us a line at adnews@yaffa.com.au
Sign up to the AdNews newsletter, like us on Facebook or follow us on Twitter for breaking stories and campaigns throughout the day.