This is a free excerpt from AdNews print magazine February 2018 edition. You can download a digital version of AdNews and subscribe to the premium print edition here.
AdNews has lived and breathed the weird and wonderful world of advertising since 1928. The ups, the downs, the struggles, the wins. From the mad men days through to the modern era's quest for equality and diversity; the rise of technology and witnessing the ever-changing thinking, insights and ideas that lay at the heart of the thriving space – we've seen it all. In 2018, we're celebrating 90 years of AdNews. That's 90 years of being at the forefront of this wonderful industry, 90 years of credibility and trust, and 90 years of expertise. In this new for 2018 feature we'll take you on a journey back in time. Just how different was it?
"Matter directed to advertisers, showing what can be accomplished in business-building by the bold use and skilful employment of newspaper space." Our stated mission from 1928.
The 'truth' in advertising: Advertising self-professing how great it is? Surely not? But yes, back in 1928, and specially written for Newspaper News, author Arthur O. Richardson shared his views on how the 'truth in advertising' slogan currently doing the rounds was destroying the value of advertising. He firmly believed the airy rhapsodies and super-salesmanship of advertising's new slogan invited cynical ridicule and didn't mean "a darn thing". He added it was particularly problematic given the "bog of ill repute" advertising had to drag itself out of. Click to download and read the cover.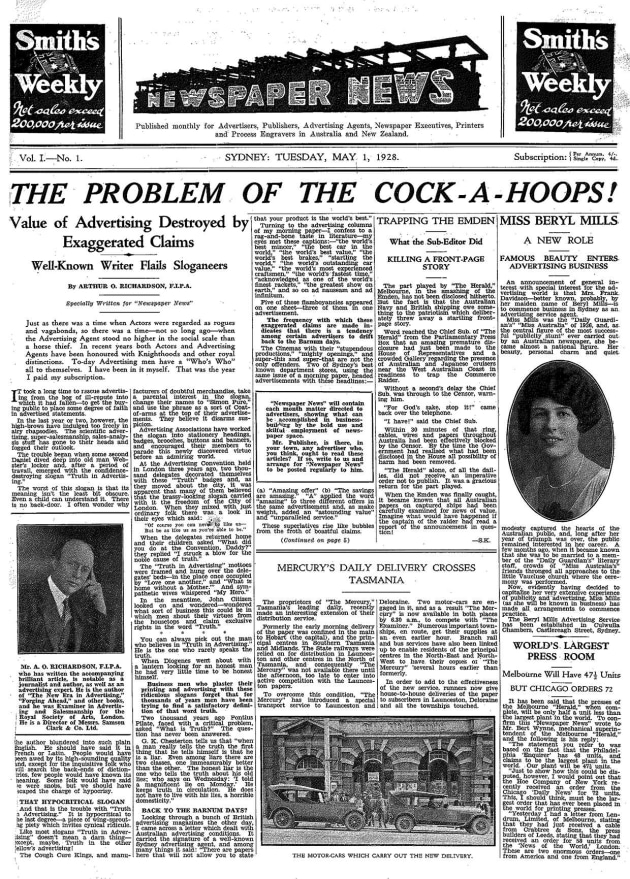 Famous beauty:
It's good to see a woman on the front page in 1928, and for launching her own advertising business - particularly given how the profession was even more dominated by men back then. According to the Australian Dictionary of Biography, Beryl Mills had a child, later remarried, moved to the US and passed away in 1977.
Murdoch's roots:
This jovial illustration says it all. "There is no 'big' newspaper man more accessible and more courteous" than Keith Murdoch. The  journalist and newspaper proprietor, the father of the current CEO and chairman of News Corp, Rupert Murdoch, no doubt graced many pages during his career. Online archives say Murdoch senior, who a received a knighthood in 1933, retired in 1949 from almost all his posts except the Herald chairmanship.  He died in 1952 leaving his family with full control of 
News Limited. Click to download the illustration.
Samson Clark advertising service:
It's nice to see agencies once backed themselves with ads. And with a 1000 clients and 320 staff no wonder the ad shop was brimming with confidence. The 1896-British agency Samson Clark opened in Australia in 1929. In the 60s it merged with one of Australia's then largest agencies, Price Berry. It underwent many changes from Davidson Pearce Berry and Tuck and was eventually bought by Boase Massimi Pollitt (BMP). It's now DDB. Click to download the ad.
Rebates abuse:
Sound familiar? Even back in the roaring 20s rebates talk plagued adland. Written specially for Newspaper News by R.W Robson, he describes the dodgy dealings as "the natural children" of a highly competitive profession taking advantage. In the full version (see adnews.com.au) he goes on to say if there were no commissions paid there would be no rebating. "If the sums taken from the publisher did not make such rich totals, there would be none of this unseemly scrambling and under-cutting and unethical behaviour". Click to download and read the article.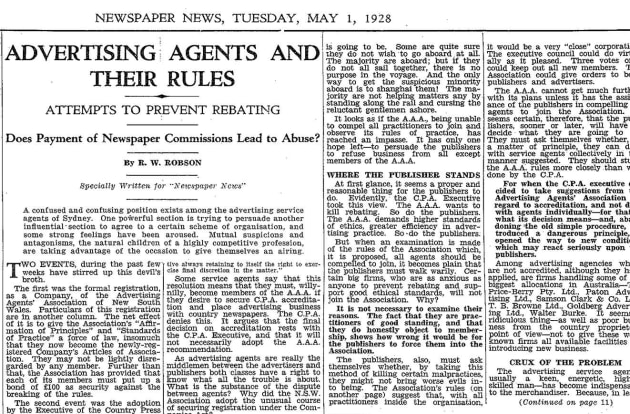 Got an interest in a specific year? We can check it out in the archives. Get in touch with AdNews on adnews@yaffa.com.au
All images remain the property of Yaffa Media and cannot be reproduced without permission.
Have something to say on this? Share your views in the comments section below. Or if you have a news story or tip-off, drop us a line at adnews@yaffa.com.au
Sign up to the AdNews newsletter, like us on Facebook or follow us on Twitter for breaking stories and campaigns throughout the day.