More than 60% of consumers abandon their first choice brand for a fake alternative while shopping online because of the use of behavioural principles in messaging, according to a new study by Google.
The Messy Middle looks at online consumer behaviour from the moment they decide to buy a product or a service to the moment they make the purchase.
The study, in partnership with The Behavioural Architects, looked at more than 250,000 simulated shopping journeys across more than 25 different product and service categories in Australia, the US, UK, Brazil and Japan.
The study found that established behavioural principles, such as brands simply being present, authority bias, scarcity bias and power of free, have the ability to sway consumers into making a purchase. For example, between a first choice and a second choice brand, one in three consumers will choose their second choice brand simply because it's there.
Additionally, an average more than 60% of consumers abandon their first choice brand for a fake brand due to the use of these behavioural biases in marketing messaging, such as brand presence, social norms and authority.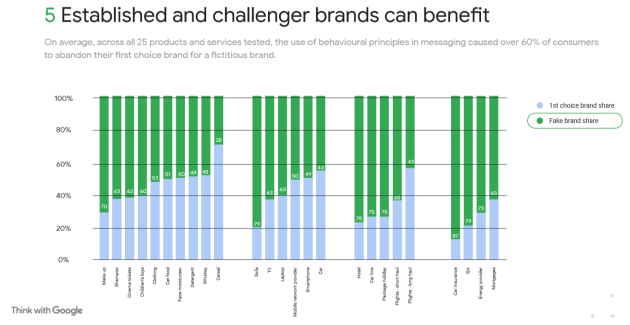 "I don't think we had the expectation that many consumers would switch across," says Google AUNZ head of consumer market research Rachael Powell.
"It was very exciting for us to see these results coming through. What this means for marketers is there are three key takeaways, the first one is around being there. When consumers are at the point of making a decision, when they're in that messy middle, it's important for both established and challenger brands to win the sale.
"The second one is how to be really compelling and leverage those behavioural principles, whether that's really small language tweaks or messaging tweaks that can nudge consumers into taking action.
"And the last one is around being experimental. This is about testing, reevaluating, refining how you're showing up for your audience. Messaging that worked last month but be different to what will work next month, particularly during the current uncertain environment we're in."
Have something to say on this? Share your views in the comments section below. Or if you have a news story or tip-off, drop us a line at adnews@yaffa.com.au
Sign up to the AdNews newsletter, like us on Facebook or follow us on Twitter for breaking stories and campaigns throughout the day.