As soon as news broke on Saturday morning Australian time that there had been several co-ordinated terrorist attacks across the city of Paris, people began flocking to social media to share their horror at the events, show support and also confirm their loved ones are safe.
Facebook's safety check tool proved vital in helping people communicate with the world that they were safe from the events, with 4.1 million people marking themselves safe using the tool, which saw then 360 million people being notified that their friends and loved ones were safe.
A Facebook spokesperson told AdNews: "We are shocked and saddened by the events in Paris. Communication is critical in these moments both for people there and for their friends and families anxious for news. People turn to Facebook to check on loved ones and get updates which is why we created Safety Check and why we activated it Friday for people in Paris."
Facebook has used the safety check feature previously for natural disasters, however over the weekend was the first time the social network had used it for a terror situation.
During the events residents in Paris in the affected areas began tweeting #PorteOuverte or #OpenDoor, in order to let people know their doors were open for those who needed help or a place to stay.
The first tweet with the hashtag took place at 10:34pm Paris Time, and it came from independent French journalist Sylvain Lapoix, it read: "Ceux qui peuvent ouvrir leurs portes, géolocalisez vos tweets + #PorteOuverte pour indiquer les lieux sûrs. #fusillade #Paris."
In English it translates to: "Those who can open their doors , geotag your tweets + #PorteOuverte to indicate safe places . #fusillade #Paris."
From there, there were more than a million tweets in 10 hours, with the tweets hitting their peak at 6,900 tweets a minute at 12:30am central european time (CET).
People also took to social media to show their support for the people of Paris, with the #PrayforParis garnering 6.7 million tweets in 10 hours, with the trend peaking at 12.28 am CET gaining 17,000 tweets a minute.
Premier of New South Wales, Mike Baird, used the #PrayforParis hashtag to keep the people of the state informed about what the government was planning to do to show its respect for the people of Paris. He tweeted on Saturday: "Tonight the sails of the Opera House will be lit in the blue, white & red of the French flag. We mourn with you and stand with you, Paris."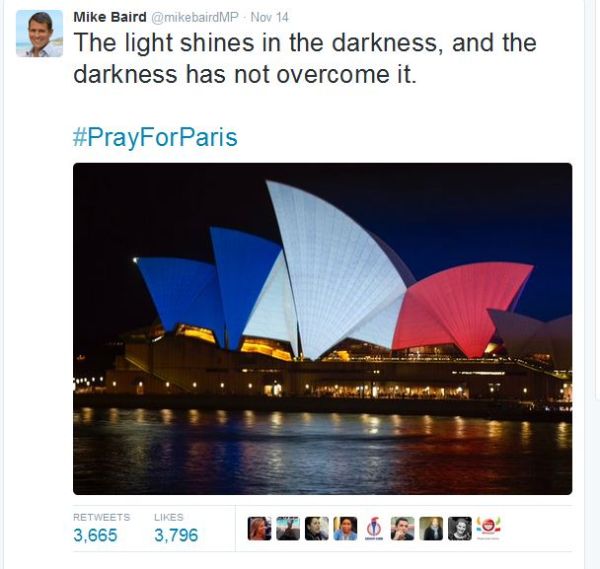 Facebook also gave users the power to change their Facebook pages to incorporate the French flag, with a spokesperson saying: "We're offering our community the chance to change their profile pictures to show support for France and the people of Paris."
An image created by French artist Jean Jullien also quickly spread across social media, gaining 158,000 likes. In his illustration, Jullien drew the traditional peace sign and in the centre has the Eiffel Tower.
Brands also got involved in showing their support with Google today having a black ribbon on its home page, and its video platform YouTube has changed the colour of its logo to the colours of the French flag. Deals site Groupon also changed the colours of its logo.
Have something to say on this? Share your views in the comments section below. Or if you have a news story or tip-off, drop us a line at adnews@yaffa.com.au
Sign up to the AdNews newsletter, like us on Facebook or follow us on Twitter for breaking stories and campaigns throughout the day.