STW shareholders have approved a merger with WPP, which will see STW function as the primary vehicle for WPP in Australia and New Zealand.
Proxy votes filed over the weekend were "overwhelmingly in favour" and the remainder of shareholder votes were finalised this morning before the official announcement went live on the ASX
The issue of consideration shares and the appointment of WPP nominees to the STW board to take place next Monday (11 April).
STW has also revealed the name of the new entity which will be known as WPP AUNZ to convey its alignment with WPP.
In addition, WPP AUNZ will have a new board consisting of six WPP nominees, four independent directors and the CEO of STW, Mike Connaghan.
Chairman Robert Mactier thanked shareholders for their 'overwhelming endorsement' of the deal and added "the hard work now begins".
A shareholder in the room questioned the timing of the deal and whether waiting for a stronger moment in the economy would have got a better deal for shareholders, to which Mactier replied: "This has been talked about and speculated over for at least 15 years ... We feel the deal will now accelerate the opportunities [for STW] and future-proof the business."
Cost synergies are estimated to reach at least A$15 million per annum, within three years of the merger. This morning it said this "significantly" enhances the scale of the group, with pro-forma normalised net revenue of c. A$850 million and normalised EBITDA of c.A$154 million.
As outlined in May, the merger will see STW acquiring the WPP Group for an enterprise value of $512 million in return for the issuance of 422,961,825 shares of WPP. STW will also take on net debt of $125m. STW shares have been issued at a 30% premium on the 10-day volume weighted average STW share prior to 10 December 2015. 
"We believe this is a great deal for all stakeholders," Connaghan said.
"This merger will drive growth, extend our reach, significantly increase the scale of our operations and position WPP AUNZ as the clear market leader.
"WPP AUNZ creates exciting opportunities for our clients, our shareholders and our people. It will be an organisation filled with insights, ideas, creativity and solutions provided by this country's most outstanding talent. We will work together to meet our clients' challenges, and will look to provide more opportunities for our people to learn and grow.
"Teamed with the opportunity to tap into WPP's world-class tools, global resources and deep technology, WPP AUNZ will be a business unparalleled in our region."
Australia and New Zealand is WPP's fifth largest market after the US, the UK, China and Germany.
The approval of the proposal means WPP will own 61% of the merged group from a current 23.55% stake in STW by its subsidiary Cavendish Square Holding. Current STW CEO Michael Connaghan and CFO Lukas Aviani will continue to run the merged entity along with chair Robert Mactier.
The deal is also said to provide a wide range of synergies for the merged business including cost benefits of at least $15 million per annum, to be fully realised over three years.
It will also increase the scale of STW's operations, with the merged entity generating pro-forma normalised net sales of $847 million and normalised EBIT of $142 million for the 12 months ending 30 September.
Former CEO and executive chairman of GroupM, John Steedman will be one of the WPP nominees, along with WPP global planning director and vice chairman of GPY&R Jon Steel and Ogilvy and Mather Asia Pacific chairman Paul Heath.
WPP Australia and New Zealand chairman Geoff Wild and WPP chairperson for Indonesia and Vietnam Ranjana Singh will also join the board.
Paul Richardson, director and current WPP nominee will continue in his role if the merger is approved. The independent directors of the board will be current STW chairperson Robert Mactier along with existing independent directors Graham Cubbin, Kim Anderson and Peter Cullinane.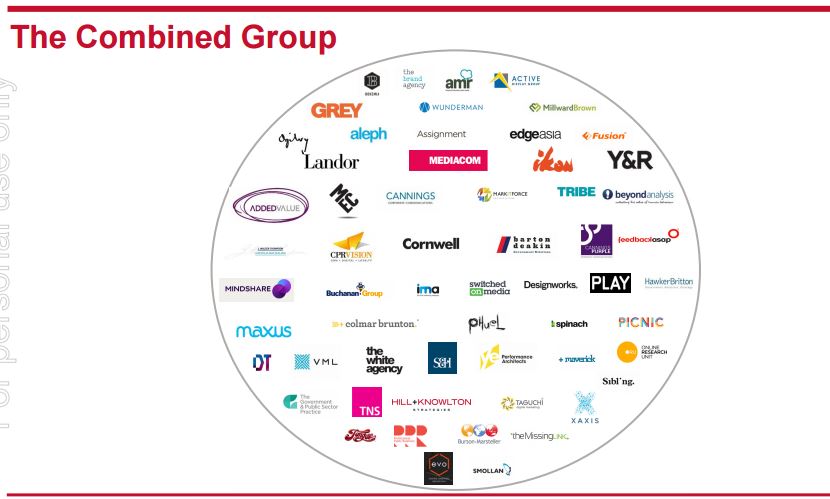 Benefits, disadvantages and risks
As outlined in the ASX memorandum to all shareholders in May:
The benefits of the merger were said to be: combined local knowledge with access to global insights and international partners, increased scale and a diversified and balanced portfolio and a simplified operating structure that would remove some of the complex joint ownership structures currently in place.
Disadvantages to the proposed merger were outlined as: WPP having control over STW, a dilution of shareholding and voting power for current STW shareholders, a change in investment profile and the reduced likelihood that the combined group would be a takeover target.
Risks involved in the merger were outlined as: the anticipated cost and revenue synergies, additional regulatory risk and potential for foreign laws to apply, fees payable to WPP for provision of brand services.
Future goals:
The combined group has four strategic goals:
1: Maintain leadership positions in core space offering or media, advertising and public relations.
2: 'Future proof' the business by growing its capabilities in: shopper and production, data and insights, and specialists and digital communications.
3: Drive 'horizontality' – better together.
4: Leverage the power of the world's leading business in communications services.
See here for What does STW and WPP merger mean for agencies?
Keep an eye on AdNews for more updates.
Have something to say on this? Share your views in the comments section below. Or if you have a news story or tip-off, drop us a line at adnews@yaffa.com.au
Sign up to the AdNews newsletter, like us on Facebook or follow us on Twitter for breaking stories and campaigns throughout the day.