Advertisers are increasingly blacklisting dodgy websites as the head of the CMO Council tells AdNews marketers are fed up by the lack of transparency on open ad exchanges such as Google Display Network.
Breitbart has lost nearly all of its advertising revenue in two months as brands distance themselves from the controversial alt-right website that rose to prominence during Donald Trump's presidential campaign.
More than 90% of brands that previously appeared on Breitbart have blacklisted it, according to a report in the Washington Post. Only a handful of advertisers, mostly organisations with Republican ties, remain on Breitbart, which is served ads by Google Display Network.
The exodus illustrates a heightened sensitivity around brand safety since the issue erupted on You Tube earlier this year.
A survey of consumers by the CMO Council adds weight to these concerns. It found that ads placed on offensive channels had an impact on how consumers perceive a brand, with 37% altering a purchase decision and 11% boycotting a brand as a result.
Further, 88% said a negative ad experience are likely to tarnish the perception of a brand and a consumer's purchase intention. More than a third of consumers preferred ads to appear on trusted sources, such as reputable media brands, while social media was regarded as the least trusted source.
Brand safety focus on channel
Most of the press coverage about brand safety in recent months has focused on ads placed alongside undesirable YouTube videos, but a larger brand safety concern is programmatically-served ads that appear on a long-tail of dodgy websites propping up open ad exchanges.
Liz Miller, SVP of marketing at the CMO Council, whose 12,500 members control more than $500 billion in marketing expenditure, says marketers are now sharpening their focus on the channel that ads appear, rather than just content.
"I think we're starting to see marketers are concerned about [brand security on Google Display Network]," she tells AdNews.
"It's no longer just about the content we might appear next to, it's now also about the brand of the channel through which we are engaging."
Miller accepts there will always be a place for some brands to adopt a media strategy to maximise reach for minimal cost. But this is fraught with risk for brands that are sensitive to their public image.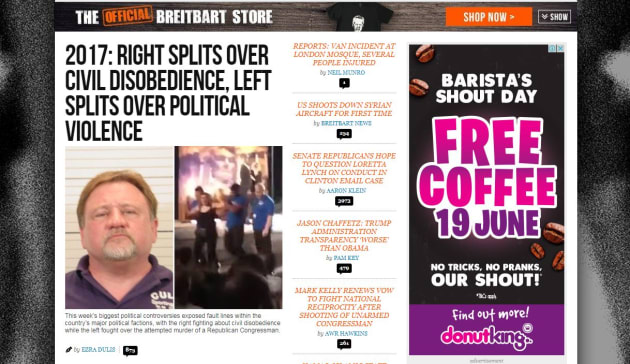 Donut King is one of the few remaining brands willking to risk advertising on Breitbart
"Brands that were buying programmatically through an ad exchange were appearing on Breitbart and had no idea," she says.
"The way they found out was through throngs of their loyal customers taking to social media with screen grabs of their banner ads showing up on Breitbart.
"Brands really need to ask some very uncomfortable questions about open exchanges, and it's our responsibility of us as marketers to ask those questions of our media partners and agencies.
"We wouldn't just leave our credit card out in the open so why do we feel the need to do it with our brands?"
Google should be 'standard bearer' of transparency
Miller (pictured right) says Google needs to provide the level of transparency that the industry has been shouting out for. This would involve allowing third-party verification firms to block ad placements on websites that don't meet a client's brand safety standards on Google Display Network.
"I am a firm believer that this is Google's opportunity to step up here on multiple levels," Miller says.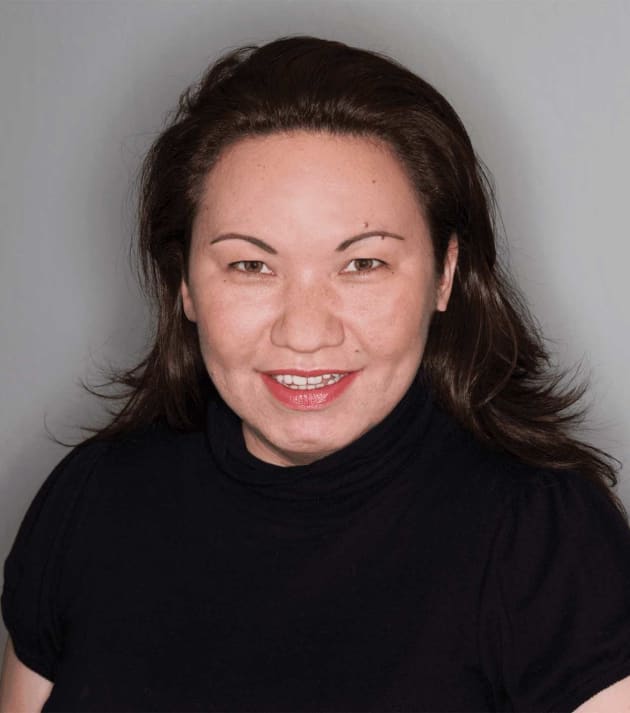 "You should be the one stepping up and saying, 'for the sake of our media partners and advertisers, 'here is the transparency, here is the verification, here is the metrics'.
"They should have the mindset of: 'here is the transparency that we believe you all deserve'. That goes for not only where are ads are placed but really coming up with solid metrics.
Miller says that CMOs have had enough of reading headlines about Facebook and Google miscalculating how many video views were seen, or views on pre-roll or where ads were showing up on the exchange.
"I can't tell you how many CMOs I talk to globally who are well and truly tired of that. There shouldn't be this many issues with that much money at stake," she says.
"Exchanges like Google should step up and be that standard bearer, not in just advertising efficiency and effectiveness, but in transparency."
Reputable media brands
Miller says this also provides an opportunity for reputable media owners like the New York Times and Wall St Journal to provide brand safe platforms that resonate with the 75% of consumers worried about fake news.
"These outlets with incredible journalistic integrity extends to the brands and the advertisers that appear on their sites. This level of transparency and ethics is everything from our journalistic transparency to our advertising ethics.
"We as brands really need to think long and hard about are whether they should only focus on efficiency and effectiveness or are the ads that we're buying actually landing in front of those audiences that value, which we want to be engaged with."
Race to the bottom 'harming marketing'
Another area that Miller believes CMOs should focus on is shifting the dial away from cheap inventory and the bottom line towards thinking more about the value that is derived from marketing, such as a better customer experience.
"In our race to become more financially efficient and to cut the budget and cut costs, we have unfortunately cut the conversation about customer experience," she adds.
"In this day and age where we are having so many conversations around how the customer is defining where, when and how they want to engage – we can't take a gamble with our customer experience.
"We certainly can't gamble with our brand security. At some point in this race we have had to master efficiency, the question isn't just how do we drive the lowest cost, the question really has to be asked by our agency partners – what is actually making the best use of our agency dollars that drive business most effectively.
"It's great that I got a million eyes for the lowest cost that I could possibly get it at, but do those million eyeballs actually drive my business forward? Or are those just a million random eyeballs that now know about my brand?"
AdNews is hosting a half-day debate on Transparency, AdNews Live! Tackling Transparency on 27 June. The keynote speaker is NAB's marketing boss Andrew Knott, who will reveal a major push to drive transparency across the bank's media arrangements.
Have something to say on this? Share your views in the comments section below. Or if you have a news story or tip-off, drop us a line at adnews@yaffa.com.au
Sign up to the AdNews newsletter, like us on Facebook or follow us on Twitter for breaking stories and campaigns throughout the day.