From driving around the streets of Brisbane as an Austereo promo person, to leading commercial partnerships for one of Australia's largest media companies, Nine's Lizzie Young is no stranger to the evolution of the nation's media landscape. She's been a major contributor.
Loyal, dedicated and direct. Lizzie Young is more than just a media sales executive. Over the course of her career she has built divisions from scratch, helped unify opposing teams, rallied behind charities and become a leader for women in the industry.
If that's not enough, she's also been part of two major mergers both locally and abroad. It's fair to say Young has a unique perspective of the evolution of media.
The good news is she would be unwilling to trade it for anything, except for travelling the world crafting the ultimate guidebook for how and what to pack when visiting specific locations. The Lonely Planet equivalent to destination packing.
Young spent most of her youth in Brisbane. An only child, Young attended a private school for girls before heading off to the University of Queensland to study a degree in economics.
After 12 months of crunching the numbers, she decided it just wasn't for her, so she switched to journalism.
Despite spending the rest of her career in driving the commercial aspects of media, Young's first role was in the digital newsroom of the ABC.
"The last six months of my degree were spent in the ABC digital news room in Brisbane, back when online journalism was at the very beginning. We were on the DOS operating system with floppy disks on these massive machines," Young says. "I stayed there for six months to finish my degree, but I needed something with more vibe. I went to B105 which was an Austereo owned radio station."
From there Young would become a member of the marketing and promotions team and was given the moniker of "Dizzy Lizzie".
During her time with the station she would also take to the airwaves as an announcer, mainly on the late night show, where she encountered her fair share of strange encounters.
"You'd have the weirdest people calling up. Someone called and proposed to me who I'd never even met," Young says.
"Radio was a bit of a wild, wild west. Radio stations, particularly B105, were an important institution in Brisbane. You'd get stopped in the street because people would recognise that you were on air."
Young says marketing immediately sparked her interest over journalism, finding it was a case of reporting facts versus using creativity to develop new and exciting concepts.
London Calling
Eventually after "bouncing around" Austereo for a few years, moving between Sydney and Brisbane, Young found the right time to try something new and explore opportunities in London.
She describes the early experience as "really hard", as she searched to find a job while only holding a working holiday visa.
Eventually she would find a role in what is now known as Global Radio, which at the time already had a lot of Australians on staff.
Young describes a long interview process that culminated in her overhearing the phrase "she's not another bloody Australian is she?" just as she walked into the office.
That man would turn out to be Nova Entertainment's current group commercial officer Peter Charlton. Despite the early hiccup, Young says Charlton has remained one of her closest friends and mentors throughout her career.
"I'd come out of promotions and marketing in Australia, and in England it was about commercialising content, so it was all about money and revenue numbers," Young says.
"He had to train me to be a commercial person effectively from scratch when I wasn't a sales person at that time. In more recent years, he has been a sounding board for my broader career as opposed to skillset.
"So, he has been part that journey. Training me on skillset and how to get skills I didn't have, whereas now I definitely rely on him more for guidance and thoughts on what's happening in the world."
Young describes her time in London as the turning point for understanding the commercialisation of "premium content" in media.
She says her experience in Australia had, at the time, been more about using promotional events as a means of generating cash for radio stations, whereas in England radio networks were able to align brands with various content offerings.
"The UK had managed to find a way to charge clients for effectively their promotions and marketing, which became what's now known as integration and content partnerships," Young says.
What that eventually led to was a conversation with then Austereo CEO Michael Anderson, who had been impressed by the integration model Young had helped develop, leading him to ask her to return to Australia and set up the company's first integration department.
"The challenge came down to changing how people thought. It was that real balance of managing sales team expectations, and content and programming team expectations," Young says.
"Bringing those two things together has probably been what's defined every role that I've had since really. Getting them each to see the value that we could create by working together and collaborating more – that's what then led to the role at Nine really."
From soundwaves to screen days
After not returning to Austereo following her maternity leave, Young attended the wedding of a former Nine employee, meeting current Chief Sales Officer Michael Stephenson.
After a brief chat and a round of further conversations, Young began work at Nine doing something all to familiar, building an integration team from scratch.
"Within about 18 months, we'd commissioned The Voice and a whole range of other shows," Young says.
"From there we really started to build on this notion of creating premium revenue around big formats and 7.30pm being that destination for the family where we could really integrate with brands and effectively develop a new commercial model out of that."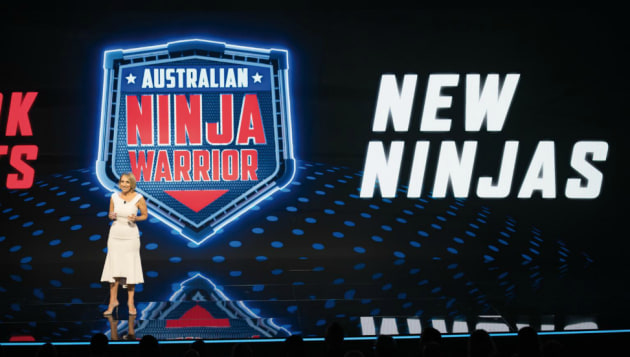 Hitting what she claims as "the pinnacle", Young had the same thought most people had about TV, of all the glitz and glamour, but soon realised it was also "pretty high stakes".
From handling close to 90 million pounds of revenue in London, to a one billion dollar buisness in Nine, it was certainly a swift change of pace.
As she began to work on building Nine's integration team, now known as 9Powered, Young realised one of the biggest difficulties would again be bringing together content creators and sales teams to understand the direction the business was going in.
She says, while those in agency world were ready for something new, getting the two in-house teams to understand the value of each other wasn't as simple.
"No pure content creator is naturally going to have a sales mindset and no pure sales person is going to understand the nuances of what it takes to create great content. So, they are diametrically different people and different experiences.
"Nine years on and we've gotten to such an amazing place. We've got a strategy which is effectively all around creating great content that is dual purpose for engaging audience and clients, and each team understands what underpins that."
Managing a merger
Young is no stranger to the world of mergers. In London, she was part of the radio merger between Gcap Media and GMG Radio, that would lead to the formation of Global Radio, the country's largest radio company.
Just over 10 years later, she would find herself right back in the thick of it, as last year Nine revealed it would be acquiring Fairfax Media.
Thinking back on the start of the deal, Young recalls the speed in which it took place, only five months, and the bizarre feeling of having to keep one of Australia's biggest business secrets, of which only another 15 people were aware of.
"We were sitting on pretty much the biggest corporate secret and knowing what an impact it would have on people and just the landscape shouldn't be underestimated," Young says.
Young says once the business got into implementation phase, things became slightly more complicated as it became apparent each business had very different ways of working.
"There were different points of view, people and cultures that are steeped in decades of tradition, particularly when you're looking at businesses like Nine, The Sydney Morning Herald and The Age," Young says.
"It becomes about getting people to align around a combined purpose as opposed to coming at everything from the position they used to have, while still having empathy for the fact that not everybody will accept or be ready for things to change.
"It's also about managing people, how they're feeling, how you get them to come together around a common purpose and how you get them to buy into the future."
That was one of the biggest things Young and the team at Nine are proud to have really managed and addressed. She says that while the merger is essentially complete, with things such as the move to North Sydney still very much a priority, there will always be new challenges.
Young adds that due to the nature of Nine being a major first for the Australian media landscape, a major focus will always be understanding and adapting to the different pace the organisation runs at when compared to before.
"It's difficult to change how you operate at the pace that we need to do it," Young says.
"Any large business will struggle with getting everyone to understand what it is trying to achieve, while at the same time trying to align a diverse workforce around that goal, and Nine is a significantly larger business than most.
"It's really how you navigate that. How to pull out the best bits of this entire organisation is probably what I'm focused on, on a daily basis, and a lot of education with people across the different business units around how their part fits together into the whole of Nine."
As for the future of Nine, Young has one major hope for the business. "I'd love Nine to be redefined in the minds of consumers as a content company because one of the things that I struggle with every weekend is on the sidelines of whichever soccer pitch or netball court I'm on," Young says.
"What I hear is people still have not got their heads around the fact that the media industry is changing and that it's actually now about content.
"Once people have reframed what Nine is as a business and understanding just how diverse our content is, that will be really job done and would be an amazing place to be both internally and externally." 
Have something to say on this? Share your views in the comments section below. Or if you have a news story or tip-off, drop us a line at adnews@yaffa.com.au
Sign up to the AdNews newsletter, like us on Facebook or follow us on Twitter for breaking stories and campaigns throughout the day.