When Ahron Young was exploring ways to fund his new media venture Ticker TV, he realised traditional advertising wasn't a viable option.
Launched last August, Ticker TV is an "ad-free" online news channel covering the business, technology and aviation sectors.
Young, CEO and managing director, had originally planned to have a subscriber-based funding model for the company, supported by advertising - the new trend for news media businesses in the face of falling advertising revenue. However, Young instead adopted a model that included a mix of branded content and sponsorships.
"When I started Ticker I was going to have it as a subscription-based service and was going to have a look at doing ads," Young tells AdNews.
"So last year there were two options, go subscription like a Netflix or a Stan or go ad-funded. But when I spoke to investors, they had zero interest in ads and they were very concerned about media organisations that were ad funded because obviously the ad market has gone through a lot of challenging periods.
"What I quickly realised when it came to subscription was that you would have to spend more money on marketing to tell people to buy your product then you would probably ever make back from the people who actually do buy a product."
The new model Ticker TV implemented includes two main opportunities for brands. The first is in-program brand sponsorships where brands, with no editorial influence, have their logo appear throughout a show, such as in the opening credits, lower thirds, and mentioned by the host. Ticker TV then takes a portion of the program and pushes it out on social media to target the brand's market audience and send viewers to the brand's website.
"So it's essentially coming up with a way that is a content maker and distribution platform for sponsors and for marketing agencies," Young says.
The second option Ticker TV provides is offering brands interviews to feature them throughout its regular programming. Brands can then buy their clip and push it across their own channels, or they can use Ticker TV's Business Booster package which takes three minutes of the interview and pushes it across Ticker TV's social media to target viewers and direct them to the brand's website.
"The feedback we get from the clients who choose that option, and it's by far the most used option and the most sought after pack that we have, is that they have something between a 300-500% increase in sales from doing it," Young says. "That's not everybody, but that's the feedback we get."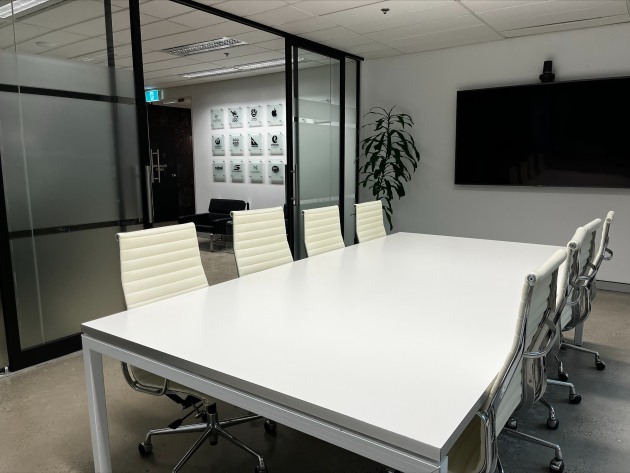 Ticker TV, which sees itself as a platform for startups and small and medium-sized businesses, has worked with brands such as University of Melbourne and CIA Tax.
Young says when he first looked at which advertisers to target, he decided to focus on small and medium-sized businesses to protect Ticker TV from any hits to big brands' media budgets.
"So our view from the outset was, and this was coming off having a look at what's happening to the industry, that if we went an inch wide and a mile deep and went for the big brands, if any of them pulled out as they invariably do, we would be open to a huge revenue loss," he says.
"So instead we go right across the board. We have telecoms, Movinghub, Real Time Agent, and The Bureau of Meteorology. And we have obviously a lot more coming through the door as well."
Young says Ticker TV's revenue has grown 150% month-on-month in the 10 months it's been operating. Over this time the team has grown from himself and two business partners who helped launch the business, including Jed Bertalli who has since moved into the role as head of sponsorships and commercial, to a team of 10.
Ticker TV's audience, 52% male and 54% aged 18-44 years old, has also grown from 250,000 views in the first month to reaching 4.3 million views in 20 days across all its platforms such as its app, Instagram, Twitter, Instagram, Facebook Live and YouTube.
The launch of Ticker TV came following the closure of Sky News Business in late 2018, where Young worked as a reporter, and then Australian News Channel and Nine's brief joint-venture Your Money in early 2019.
The closures left a gap in the Australian market for a dedicated business news channel, but Young says it was the success of international channels, such as CNBC and YouTube channels like Business Insider and Cheddar, which he looked to when modelling the format for Ticker TV.
"I think watching the development of this over many years and looking at them and thinking, why don't we have this kind of breadth and level of conversation here," he says.
"So what we do at Ticker is always ask the why, not just the how and the what. Because we're trying to educate younger investors about the market, things that for other people might just be obvious, but we're talking to young people who are learning about these things for the first time."
Have something to say on this? Share your views in the comments section below. Or if you have a news story or tip-off, drop us a line at adnews@yaffa.com.au
Sign up to the AdNews newsletter, like us on Facebook or follow us on Twitter for breaking stories and campaigns throughout the day.