Founders of Australian dress sharing platform Designerex say a marketing strategy based on an "obsession" with Instagram, coupled with a strong reliance on micro-influencers, has propelled it to international heights.
However, business owners Kirsten Kore and Costa Koulis say despite the success with social media, algorithm changes along the way meant its focus on quantity of posts had to quickly change to quality of posts.
The peer-to-peer clothes sharing venture, which started in 2016, allows users to rent dresses through their platform.
With more than 11,000 dresses in its system, it's already facilitated close to $1 million in transactions to dress owners around Australia.
Boasting hefty organic growth, stemmed from post tagging in the early days, just last month it was ready to take on the US market as part of its global ambition.
Speaking to AdNews, the founders, who now head up a team of eight, explain how they relied on Instagram to grow, not ads or big influencers.
"I was essentially obsessed," Kore said.
"I'd spend hours and hours tagging on Instagram and that was a huge focus for me because I knew the customers were there."
"At the beginning I was the one driving traffic and in charge of the social channels and when that's your role, you have to literally get obsessed with it."
During its first year the pair were spending $20-$30 per day on Instagram ads, now they say it's roughly doubled.
The platform, which currently has 17,800 followers on Instagram and 14,100 on Facebook, started to use micro-influencers, shunning big-name influencers in the process.
"Micro-influencers are very valuable because user-generated content performs really well for us," Kore said.
"When it's your own peers talking about Designerex, tagging themselves or telling their friends about it, what they're wearing, where they got it and how much they got it for – it's very effective for us."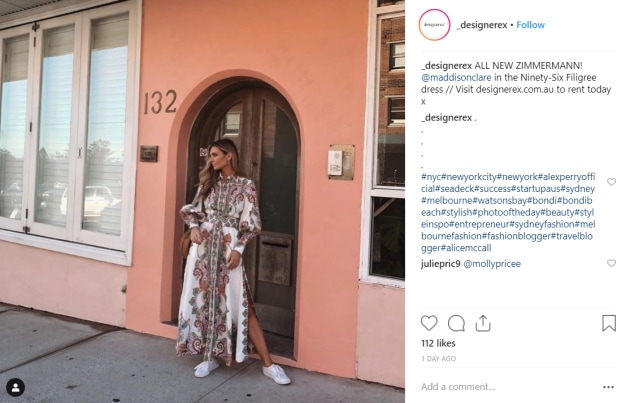 Designerex on Instagram
Costa added that while they didn't invest as much time in Facebook because it was less cost effective, the social media platform has grown to be a bigger slice of the pie.
Last month the pair launched Designerex in the US with help from AusTrade's Landing Pads program, which supports a select-few startups overseas.
The pair said they're hoping to recreate their success in the US by using much of the same strategy.
"The size of the US market makes us more excited than anything else," Costa said.
"The fact that we already did it in Australia, which is a very competitive fashion market, makes us confident, but nerves never completely go away as entrepreneurs."
Keeping up with social media
Designerex isn't the first Australian startup to make it to the US with help from Instagram, with teeth-whitening company HiSmile tapping into social media culture to grow.
However, while HiSmile used celebrities such as Kylie Jenner and UFC star Conor McGregor, Designerex has stuck to user-generated content.
Designerex's Instagram
Kore said this can make it difficult to keep up with at times, as platforms constantly evolve.
"Before Instagram changed its algorithm it was based on quantity," Kore said.
"You could post as much as you wanted and it would come up on everyone's feed. Now, with the algorithm change we really have to focus on quality of post rather than quantity."
Kore added it also uses Instagram Stories heavily as it can get more views compared to posts.
Have something to say on this? Share your views in the comments section below. Or if you have a news story or tip-off, drop us a line at adnews@yaffa.com.au
Sign up to the AdNews newsletter, like us on Facebook or follow us on Twitter for breaking stories and campaigns throughout the day.