It's official – SUVs have taken over the Australian auto market the incredible rise of the all-purpose vehicles are now driving marketing budgets and manufacturer strategies.
Standard Media Index figures that compare Q2 advertising expenditure over the past four years show incredible growth in the amount of media booked for SUV campaigns compared to other vehicle classes.
In the past year alone, SUV ad spend grew by 86% from $22.3 million in Q2 2016 to $41.4 million in Q2 2017.
Over the same comparable period, media booked for medium and large passenger vehicles declined by 26% from $13.2 million in Q2 2016 to $9.7 million in Q2 2017. Meanwhile, micro and smal passenger vehicles also had a solid lift in ad spend of 17.4% to $20 million.
The SMI figures are indicative of a wider trend that has occurred in the automotive sector over the pat 10 years.
Official VFACTs sales data supplied to AdNews by Carsales shows the gap between passenger vehicle sales and SUVs has been gradually closing until this year when SUVs took over (see chart below).
"The passenger is declining, SUV is now clearly the leader," says Agostino Giramondo, Carsales sales and strategy director of OEM and Media.
"The number of SUVs is crazy and it's about to get crazier because Holden is going to bring in a whole new fleet, once they stop manufacturing locally. Nissan and Mitsubishi have clearly positioned themselves as SUV businesses and Mazda is starting to cannibalise its own small car, the Mazda 3, with the CX3."
One car manufacturer that is attempting to buck this trend is Kia, Giramondo adds: "The passenger car is gone yet Kia still brings in the Kia Stinger to try and take what's left of the Commodore Falcon market, and it will probably do very well, but it's a passenger car."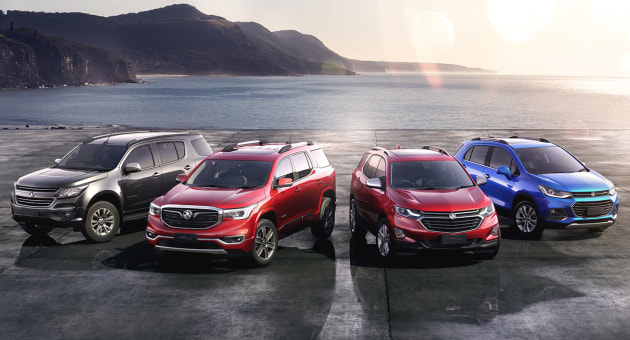 Holden's new SUV range.
As Giramondo points out, Holden is bringing more SUVs into the Australian market as it ceases local production and begins to become an importing brand.
Holden's director of marketing Mark Harland tells AdNews the company has committed to 24 products in this market between now and 2020, predicting growth in SUVs and pick up trucks (replacing the Aussie sedan utes).
"I have the benefit of having worked in North America, Europe and then Asia for the last four or five years and I can tell you the small and mid-sized SUVs is a global phenomenon; it's the fastest growing segment around the world," Harland says.
"SUV as a segment overtook passenger cars as a segment back in June for the first time and we continue to see that trend evolving."
The new BMW X2.
Another car manufacturer that is on the SUV bandwagon is BMW, which has seen SUVs rise from 26% of its sales in 2007 to 51% this year.
The luxury German car manufacturer says the rise of SUVs is "a good thing" and BMW is well equipped to cash in with its 'X' product range.
"There's a significant strength in depth from BMW around SUVs and we've certainly seen - the most significant growth that we have seen across our product portfolio has come through the SUV product," BMW Australia GM of marketing Stuart Jaffray tells AdNews.
"Most recently we've bought vehicles like the X1 into Australia, so that's a new segment for us. Next year we will bring an X2 into the market as well...there has been a significant expansion in terms of our overall product portfolio and, with that, we attract new customers into the brand."
Even iconic sports brand Porsche is tapping into the SUV craze. In previous eras a 911 or a Boxster would top their sales lists but last year 68% of global sales came from Cayenne and Macan crossover SUVs.
What's powering our SUV love?
Marketers tell AdNews Australia's love affair with sport utility vehicles is largely being driven by the 'utility' bit, even if not every SUV model is a 4WD.
"A lot of it is driven by lifestyle," Jaffrey points out. "You've seen the growth in sports like cycling, a growth in the type of sport like surfing, a growth in the number of people that will go down to a winery over a weekend, a growth in the number of people that will go down to a holiday rental property or in fact their own property out of town over the weekend and the SUV is the vehicle that's really perfectly suited for that sort of lifestyle."
Harland concurs, adding: "99% of the people probably really never need to go off-road but, for that 1% of the time that you want to go skiing or if you want to go to the outback, you have that option in the vehicle. People have busy lives or families or pets or bikes and surfboards and things like that, and SUVs offer that extra flexibility."
Harland believes SUVs are also popular among women because it sits the driver in a higher position with a greater field of vision.
"It makes them feel more in control and safer as well. Women look at the SUV from that point of view and, again, men are looking to it as a utility vehicle - to do on-road/off-road and, whether it be kids and/or sports equipment or otherwise, move it around."
The family aspect should not be overlooked. Australian regulations require kids up to seven to be in authorised child safety seats and the more spacious cabins of SUVs are far more accommodating than that standard sedan.
Whatever the reason, marketing budgets will continue to gravitate to these all-purpose vehicles – the SUV phenomenon is here to stay.
Have something to say on this? Share your views in the comments section below. Or if you have a news story or tip-off, drop us a line at adnews@yaffa.com.au
Sign up to the AdNews newsletter, like us on Facebook or follow us on Twitter for breaking stories and campaigns throughout the day.