Publisher desperation to hop on the mobile bandwagon with a bag full of terrible static banners and MRECs must end, before it hits them where it hurts.
Speaking on a panel about best practices on mobile monetisation, hosted by ad tech company PubMatic, regional director APAC at mobile advertising company Celtra, Richard Knott, said good creative on mobile tends to be "isolated examples".
"If you don't think you'd click on it then why would anyone else?", Knott said, adding that the industry sees more average creative on mobile than great creative – by quite a stretch. Examples of a Celtra ad below.
"Publishers have been understandably desperate to break this ineffectiveness spiral by injecting anything that can even temporarily, to drive some form of response. Even if it's just a click from someone trying to find the close button."
Also speaking at the Sydney event, Fandom Australia MD James Perry said the mobile user experience is much more intense that desktop and if publishers don't do it right, it'll be bad for them in the long run. Fandom, powered by Wikia, is a popular culture website for fans by fans.
"Everyone in this room knows that if you go on a site and you feel like you are being bombarded with ads or the ads are too in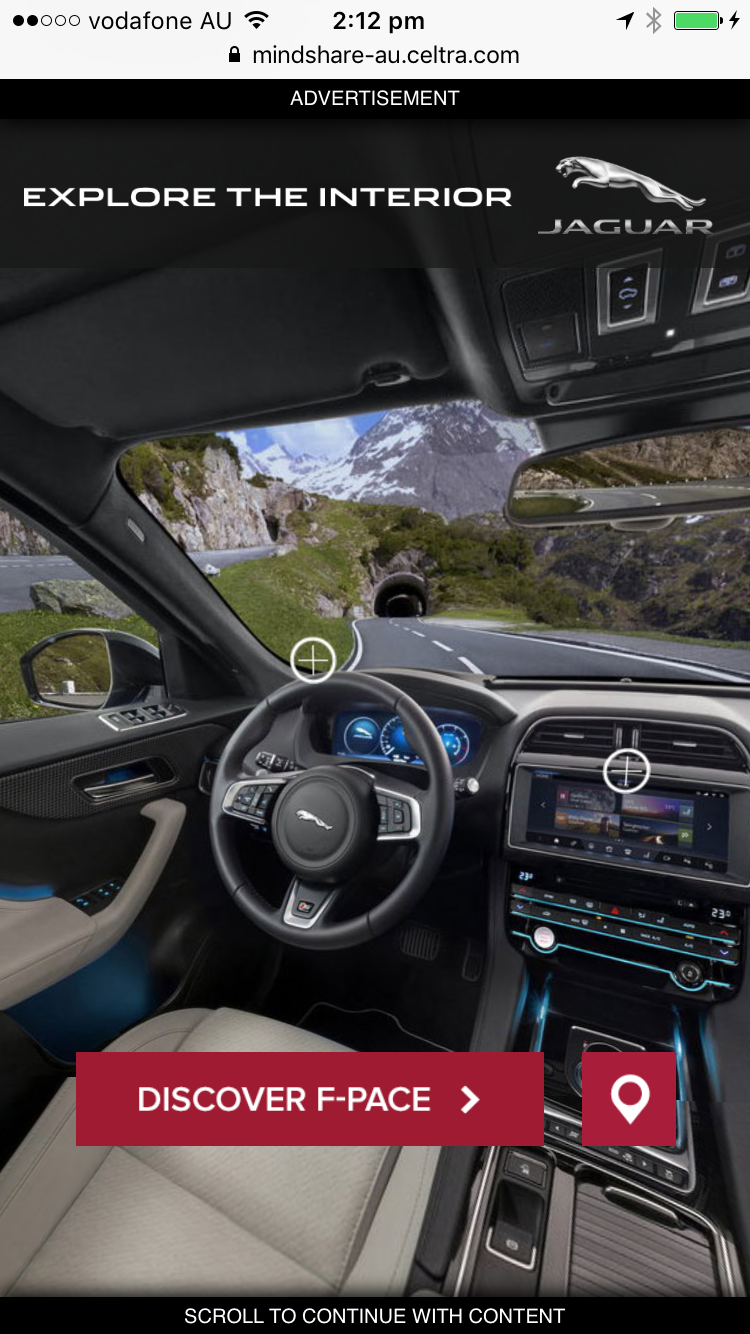 vasive then you will change your browser habits fairy quickly," Perry said.
He said publishers need to be "very careful" about what they let advertisers do on the sites they run and creative is a huge part of that.
Knott agreed, saying: "There has been a little bit of desperation in the market with publishers trying to monetise mobile and they've gone for some intrusive ad formats that you now see quite often.
"You need to think about the whole experience. Does it work for a user? Does it work for an advertiser?"
He said the days of using simple static or jpeg adverts on mobile should be over as users want engaging, non-intrusive formats.
Falling through the cracks
Speaking to AdNews, Knott said while the responsibility for great creative has traditionally resided with creative agencies, in a html5 digital world it has fallen between the cracks of creative agencies, media agencies, publishers and ad networks.
 
He said each of these functions in the ad chain have their own business priorities. While some have to make sure content is delivered effectively across all media and new channels, and some have to make sure they can access and use data well, none of them have creativity as a priority. As a result, finding time and resources to build great creative has often "fallen to the back of the process queue".
"This is a shame as the creative has at least as much significance in convincing consumers to engage with advertising as data and the media it sits within," Knott explained.
"However, I do sense this attitude is changing overall and creative is now beginning to get the consideration it deserves."
On the subject of mobile inherited banner ads from desktop, Sydney-based Knott, who is also chair of IAB Mobile Advertising Council, said initially they were made smaller and as Flash never really worked on mobile, they were made static. 
"These traditional ad units have really struggled to engage audiences; therefore they have struggled to drive advertising effectiveness, which, in turn, has driven under-investment in mobile by advertisers," he said.
"With audiences mass and rapid shift to mobile as the content consumption device of choice, publishers have been understandably desperate to break this ineffectiveness spiral by injecting anything that can even temporarily, drive some form of response. Even if it's just a click from someone trying to find the close button."
Grasping the nettle and taking ownership
Knott, who has been at the US-founded business for two years, said repercussions from such poor creative spans from content avoidance to even adblocking. While the core method of success on mobile was measured upon clicks, he said only now everyone is beginning to realise you can grab attention without negatively affecting user experience through great creative.
Knott said it was only through the explosion in adblocking that indicated such poor ads were creating a negative sentiment.
On questioning why publishers or brands don't grasp the idea that if they wouldn't click then why would anyone else, Knott said he thinks everyone does understand, "but it's tough to engage consumers with a brand story within a static 320x50".
"But because creative on mobile has traditionally been an afterthought (some exceptions aside), the will to change has been hamstrung versus other priorities," he said. 
"Advertisers can only buy what ad product they are presented with. Publishers will only produce what they believe will sell within prescribed guidelines. Someone needs to grasp the nettle and take ownership of this, and thankfully we're beginning to see that happen with some brands themselves and some media agency groups."
A troublesome trio
Following Celtra's recent research with Forrester, three types of ads were considered the worst:
1. Disruptive ads. Ads that disrupt by overlaying or fly out or over content and generally get in the way of the user journey.
2. Ads that don't function or don't have a function.  They don't load properly, buffer for too long and then don't offer any functional value to engage with when loaded.
3. Ads that aren't relevant.  With the abundance of data available everywhere in digital, serving the same 'one size fits no-one' ad to everyone, everywhere, is such a wasted opportunity.
The PubMatic Academy event, which delved into all things mobile with insights from the IAB, eBay and Geronimo, was hosted by PubMatic's country manager Peter Barry.
In concluding, Barry said that a clear positive from the event was there had been no mention of the "fear of mobile or adblockers".
He said this suggests that if the industry is getting the creative, the execution and delivery right then such issues would be kept at bay.
Have something to say on this? Share your views in the comments section below. Or if you have a news story or tip-off, drop us a line at adnews@yaffa.com.au
Sign up to the AdNews newsletter, like us on Facebook or follow us on Twitter for breaking stories and campaigns throughout the day.