This first appeared in the April issue of AdNews Magazine and is part three of a three-part series that focuses on the positive stories of print publishers.
Private Media, which runs a portfolio of specialist websites including Crikey, has built its titles for "small, exclusive networks" and believes niche publishing is the future, offering a commercial model that can survive the long–term.
"Specialist publications are always much closer to that audience," Beecher explained. "In my view, that is circumventing a lot of the structural challenges that the rest of media is facing.
"It doesn't matter what size audience you have, it's hard to monetise. So, it's not about size of audience, it's about quality of audience. But, don't just say that, deliver it in a way audiences understand and advertisers understand."
In the case of Australian magazine Frankie, that features music, art, fashion, photography and craft, Beacher was right on the money.
Frankie has carved out a loyal following for itself with pastel colours and an environmental and ethical focus. It reaches 407,000 readers with each of its bi–monthly issues, showing that a niche style can have wide appeal.
While it has a lower than average advertising to editorial ratio compared to most magazines, it works with brands like Marc Jacobs, Vera Wang and Converse, and more unique businesses like coffee brand Campos and women's bike company, Liv.
"People are still opening magazines, but they are magazines that are more thoughtful and carefully curated," Frankie editor Sophie Kalagas said.
"It's less about celebrity–driven gossip, hair and make–up tips, and throwaway content that can be found easily online. Instead, readers are looking for interesting stories they can personally relate to, learn from, and really sink into."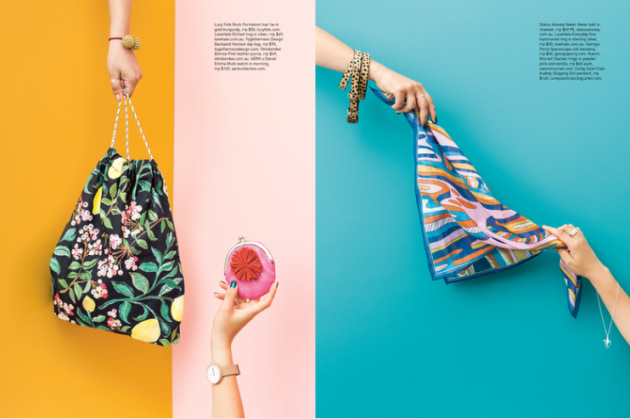 Frankie has a unique content positioning that appeals to readers
Kalagas described Frankie's pastel pages and unique design as a "rebellion against highly edited and digital design" that instead favours a handmade feel and old school aesthetic. This creative approach has helped the magazine stand out on newsstands and create a loyal following, she added.
"We're not making people feel like they're not cool enough, or rich enough, or skinny enough," Kalagas explained.
"A sense of trust from both sides has contributed to Frankie's commercial success."
Being a niche magazine alone did not save Collective Hub from axing its print product this year, with the main cash cow clearly being in events, founder Lisa Messenger previously told AdNews.
Australian Geographic, which was sold by Bauer to Northern Pictures a week prior to this feature, took the title of Special Interest Magazine of the Year at the Australian Magazine Awards in 2017 for its great examples of brand extensions, growth in audience and commercial outcomes. The title reaches 543,000 readers per issue, up 9.2% year–on–year, according to Emma data, and digital growth of 19%.
Australian Geographic recently sold to Northern Pictures
Australian Geographic editor, Chrissie Goldrick, said the magazine's high quality production and niche positioning has given it resilience in this media economy despite it being expensive.
"We don't have other magazines out there that do what we do. We do a lot of long–form journalism that isn't readily available and isn't replicated in other channels," she said.
"We still believe there are a lot of people out there that like to read print magazines. If they are well produced and if it's content you can't get for free, you can buck the trend that is happening to other publications."
Goldrick revealed the brand has had to continuously look for new opportunities and has found success in ventures like its branded travel experiences, which are collaborations between the magazine and travel providers.
Australian Geographic also launched a series of documentaries on TV in 2015 that run each year on Channel Nine. Goldrick said investing in more channels has helped the magazine build its reputation as the go–to expert in travel.
Have something to say on this? Share your views in the comments section below. Or if you have a news story or tip-off, drop us a line at adnews@yaffa.com.au
Sign up to the AdNews newsletter, like us on Facebook or follow us on Twitter for breaking stories and campaigns throughout the day.