Automotive brands and retail brands have made the largest gains in media spend in the past year as media agency bookings are poised for a fifth consecutive year of growth, according to financial year figures from Standard Media Index.
The amount booked through media agency groups, aside from IPG Mediabrands, is $7.1 million with late digital bookings for June to come.
Digital, outdoor and radio had strong years while the decline in television bookings tailed off in the second quarter of this year.
This growth is being driven by a few of the larger categories. In FY17, automotive spend increased by $46 million, an 11% increase on FY16, retail was up $90 million (a 9% gain), movies/cinema/theme parks was also up $21.3 million (3%) while the 'other financial services' category, which includes insurance companies, was up $13.2 million (3%).
The spike in automotive is being driven by more competition in the market and new marketing strategies as local car manufacturers wind back the production of Australian made cars.
Holden's Carstodians.
An example of this is Holden, which has launched marketing campaigns such as its'carstodians' that aim to shift its perception as an 'Australian made' brand to one that encompasses Australia's cultural diversity.
It has also pushed out new campaigns for models in this market, such as the Colorado, a rebadged Chevrolet truck that is aimed at tradies rather than the classic sedan-based Commodore ute, which the company will stop manufacturing. These are major shifts for one of Australia's iconic brands.
"There's more brands being advertised and as car manufacturers wind back their manufacturing operations, they are putting more into marketing budgets," SMI managing director for Australia and New Zealand Jane Schulze tells AdNews.
"Within retail again it's a function of increased competition, Aldi has been making aggressive moves in the market. We are seeing more and more spending specifically in the supermarket sector."
Category ad spend gains and declines for the 2016/17 financial year.
Schulze says that Amazon's launch in Australia should drive greater spend more broadly but its unclear which categories are likely to be affected.
Looking at how the online marketplace has operated overseas, consumer electronics, such as home entertainment, and various areas of retails, such as books, video games and other media, are likely to be most affected.
"Any increase in competition motivates brands to advertise because it's about grasping a higher share of voice" she says.
The categories that had the largest drops in the past fiscal include government, which dropped by 3% ($92.2 million) and food/produce/dairy, which was down 5% ($24.1 million).
Government's decline is due to last year's federal election and Schulze reckons that the drop in food, produce and dairy could be linked to the rise in supermarket spend.
"I think what is happening there is that brands have to pay supermarkets to contribute to supermarket advertising. For example if Nestle did a promotion with Coles for cheap Kit Kats in a down down ad, they would help pay for that campaign," she adds.
"Because of the growth in supermarket spend, the individual food brands are helping fuel that and as a result we are seeing a decline in some of their individual advertising."
Other notable drops included the struggling media sector, down $28.9 million (2%); auto dealers and parts, down $18.2 million (3%) and real estate, which fell $16 million (1%). Travel also fell back 5%.
"I think the level of advertising by real estate agents and developers going backwards is interesting, it sounds counter intuitive when the real estate market is growing so quickly. Maybe it's because they are selling properties so quickly they don't need to advertise as much," Schulze adds.
SMI data indicates that media agency bookings are set for a fifth year of growth.
Television decline flattens out
The market is on track for a fifth consecutive year of growth, albeit at a much more tepid pace than the past four years, SMI figures confirm.
At present, total media agency bookings are $7.1 billion, only $10.5 million down on last fiscal, but late June bookings will more than make up for this deficit.
The result is all the more remarkable when you consider that last year had a bump from the federal election and Rio Olympic Games and much of the growth in digital comes from Facebook and Google, which only have a proportion booked through systems that the SMI monitors.
As these figures shows, TV is down 2.9% in total but the decline has been much more muted in 2017 and almost flat when the effects of federal election spending are stripped away.
Year-on-year the total is back 2.9%, which is comprised of a 3.6% decline between July and December 2016 and a 2.2% decline in January to June this year.
"In the back half of the second, the April to June results were even stronger," Schulze points out. "If you exclude government for the second quarter of 2017, TV bookings were actually up 0.2%."
This push back into TV is partly due to concerns about brand safety on digital channels, including YouTube, and more marketers questioning the effectiveness of digital spend this year.
Digital media agency bookings still had strong growth of 8.1% to $1.89 billion. SMI figures only represent a small proportion of digital media spend, PwC and IAB figures suggest digital media spend in the 2016 calendar year was $7.4 billion, up a huge 23%.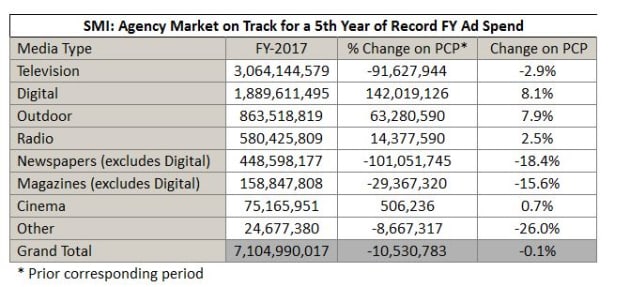 Have something to say on this? Share your views in the comments section below. Or if you have a news story or tip-off, drop us a line at adnews@yaffa.com.au
Sign up to the AdNews newsletter, like us on Facebook or follow us on Twitter for breaking stories and campaigns throughout the day.