Aldi has been accused of "bait advertising" and its practice of selling cheap Special Buy products in limited stock is under investigation for breaking consumer law.
ABC consumer affairs program, The Checkout, is calling out Aldi on this practice on tomorrow night's episode.
Following promotions in its catalogue, The Checkout says dozens of customers queue up on Wednesdays and Saturdays when the supermarket offers discounted one-off products, but sometimes less than a handful are actually available.
The catalogues, created by Aldi's ad agency BMF, promote the sales and creates a flood of demand, but many claim there's simple not enough stock.
Chaotic scenes have reportedly kicked off at Aldi stores as shoppers have clamoured for popular items, such as Dyson vacuum cleaners and cheap ski gear.
One mother appearing on the show explains how she had seen an ad for leather shoes as part of Aldi's Back to School Special Buys offers. The woman and her daughter reportedly visited seven stores in one morning – and every single one was sold out. She discovered later that each store only had one size of each shoe in stock, The Checkout reported.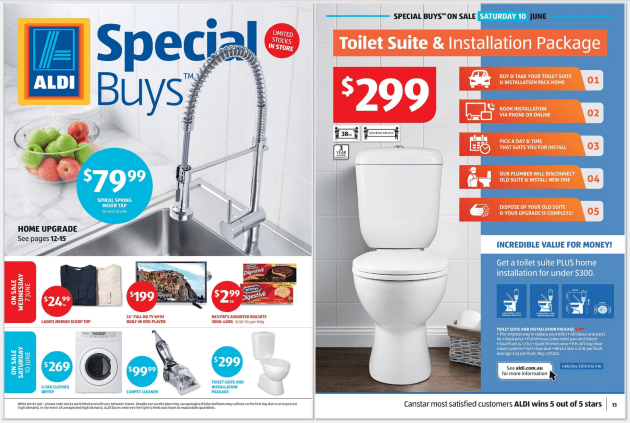 A sample of the Aldi 'Special Buys' catalogue
The Australian Competition and Consumer Commission (ACCC) website notes bait advertising is not misleading if "the business is upfront in a highly visible, clear and specific manner about the particular product 'on sale' being in short supply or on sale for a limited time".
Aldi apologises preemptively in the fine print of its brochures, noting its Special Buy products are available while stocks last.
"Please note stocks are limited and will vary between stores," says the fine print. "Despite our careful planning we apologise if selected stock may sell out on the first day, due to unexpectedly high demand."
The ACCC website states consumers have a right to a replacement in cases where an on-sale product is in short supply.
"If there is not a reasonable chance the offer will be available at the advertised price, you may be in breach of the ACL unless you promptly offer a 'rain check', an acceptable substitute product or take other corrective action."
An Aldi spokesperson responded to the accusations, saying: "Driving demand and disappointing customers by not supplying enough stock is categorically not part of our business model. We are a retailer and we are in the business of selling as many products as we can. On occasions, our products are in high demand and sell-out faster than anticipated. In our business, this is not a win. We would always prefer to correctly balance the demand with the supply of stock and we consistently strive to achieve this balance."
This isn't the first time Aldi has been called out for illegitimate advertising ploys. AdNews revealed in 2016 that Aldi's long-running comparative campaigns were susceptible to successful claims of copyright infringement.
Have something to say on this? Share your views in the comments section below. Or if you have a news story or tip-off, drop us a line at adnews@yaffa.com.au
Sign up to the AdNews newsletter, like us on Facebook or follow us on Twitter for breaking stories and campaigns throughout the day.